Achieve is an independent 501(c)3 organization that serves as the local education foundation for the School District of South Orange & Maplewood. Over the past two decades, the organization has raised more than $4 million to promote academic excellence and equity in all our public schools.
The Achieve Foundation is known for its flagship Volunteer Tutor Program, which provides free academic support to students at all grade levels across the District, and has inspired innovation by awarding over 1,000 educator grants for classroom projects, professional development opportunities, and district-wide initiatives.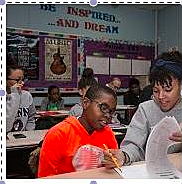 Recently, the organization has worked to bridge the digital divide in our schools by piloting a Chromebook loaner program at Columbia High School and by funding the purchase of hotspots when schools were closed in the spring of 2020 due to Covid-19. Achieve also promotes hands-on learning through its free Maker Madness STEAM fair, and enhances music education through programs like the Vanessa Pollock Music Initiative and the Ted Cole Clarinet Project.