You can help us serve the 10,000 people on our waiting list by donating online here.
(Info on donating by check at bottom of this page)
Vouchers 4 Veggies - EatSF (V4V) is a healthy eating voucher program that facilitates healthy eating, extends food budgets, drives the local supply of produce, and enhances the economic health of underserved communities.
Watch Marilyn's 2-minute story to see our program in action and hear how it helps your fellow city residents:
Families develop healthy habits: V4V works! Just six months in the program helps people develop life-long health eating habits. 99% of participants are eating more fruits and vegetables as a result of the program. Vendors accepting our vouchers are in the neighborhoods where our participants live. The vouchers allow families their choice of healthy produce that fits with their culture and kitchen capacity, shopping when and where they feel safe and comfortable.
The whole neighborhood is elevated: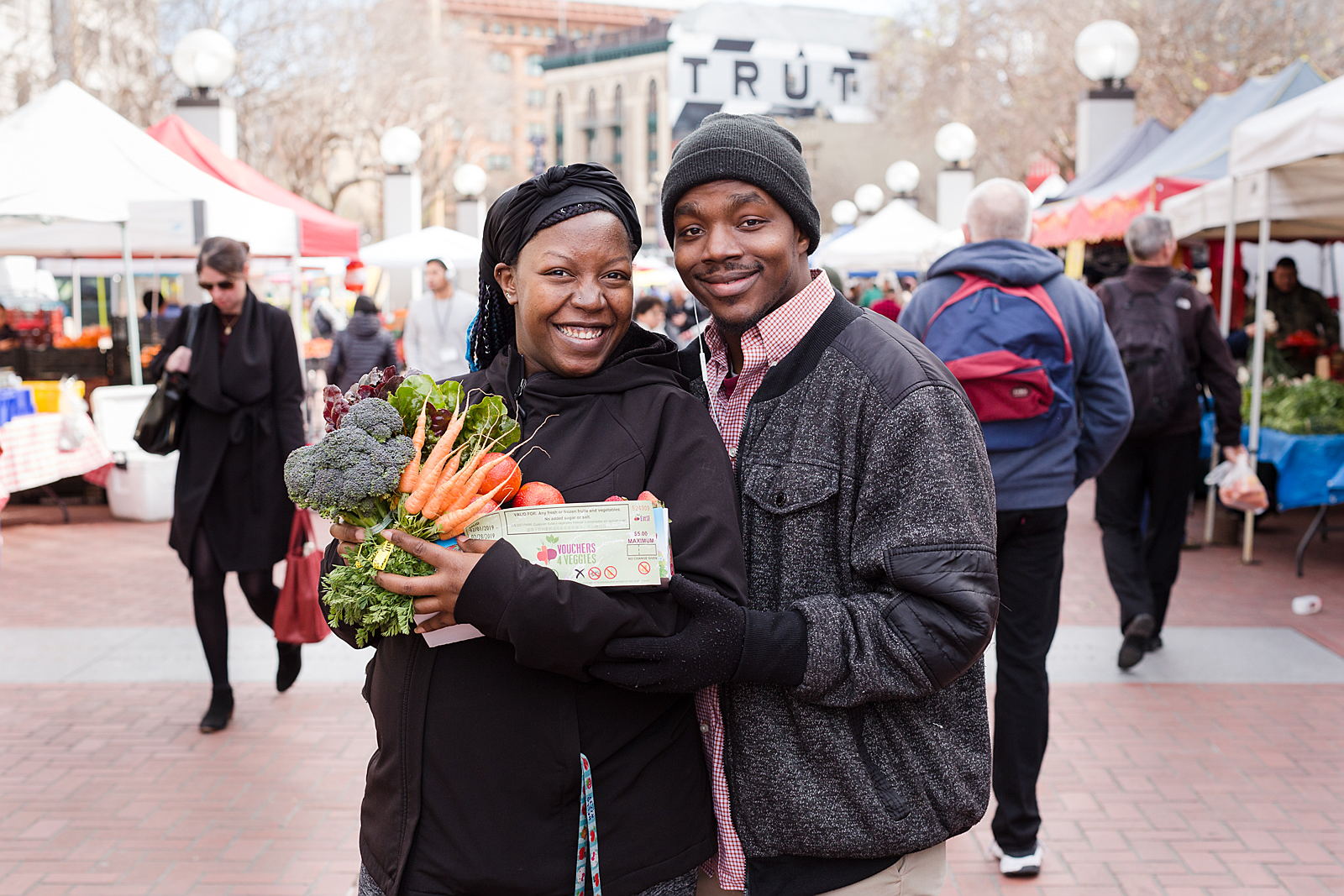 Since 2015, we have infused over $2 million of healthy food purchases into underserved neighborhoods. Many communities are food deserts where nutritious and affordable foods are hard to find. We partner with neighborhood stores in vulnerable communities to bridge the dietary divide. Store owners say that V4V has changed what food their customers buy. They are re-stocking fruits and vegetables more often and throwing away less. This allows stores to increase the variety and quality of produce they stock. Everyone wins!
Public health dollars are saved and communities benefit: Residents in underserved neighborhoods have disproportionately higher hospitalization rates for conditions like diabetes, high blood pressure, and heart failure. Yet, these diseases can be prevented through access to good nutrition and moderate exercise. V4V boosts the present and future health of participants, reducing money spent on medical care. Increasing fruit and vegetable consumption by just 1 serving a day can have immediate health impacts. If Americans consumed just one additional serving of fruits or vegetables a day, the nation would save $5 billion in health care expenditures.
Knowledge about healthy eating is linked with the ability to purchase healthy foods: Many organizations educate their clients in health and nutrition so that they can stay healthy. What has been missing is the means for people to get fresh fruits and vegetables after the class and coaching are over. We make it easy for participants. They can get nutrition and healthy living advice from organizations they already visit, then take their vouchers to a store near their homes and get the produce they've been advised to eat.
Watch our 6-minute origin story and take a trip to the market with our participants:
All gifts are tax-deductible. We are fiscally-sponsored through the San Francisco General Hospital Foundation (Tax ID: 943189424), who processes all donations to our program. Your donation receipt will acknowledge San Francisco General Hospital Foundation.
By mail: Please make checks payable to the San Francisco General Hospital Foundation and indicate EatSF - Vouchers4Veggies on the memo line. Mail to:
San Francisco General Hospital Foundation
P.O. Box 410836
San Francisco, CA 94141-0836