In recent days, our mission has taken on a new urgency. As we face the global pandemic together, our passionate and committed medical professionals at Hospice Savannah bravely continue to admit and care for your friends, neighbors and families. Their passion seemingly exceeds their safety, and this is why I am reaching out to you. Now, more than ever, we need your help!
My name is Leslie, and I am a registered nurse who works after-hours and on weekends helping in homes and at Hospice House. Until very recently, we have had to improvise on PPE (Personal Protective Equipment) as best as possible!

Caring for dying patients is always a very challenging time for the patient, their family, and their care team. In today's climate it has become more challenging. To ensure that I have what I need to provide the best quality care to my patients, while keeping them and myself safe from COVID-19, I've developed a daily checklist, This is the first and last list that I check upon leaving my home and returning to my home. There are so many patients, and more to come, who will need our help during their last days. We are tired, but we must continue to carry out our mission and provide quality care at the end of life with adequate staffing, supplies, and equipment. We absolutely cannot do it without YOU!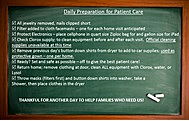 We have created a team of staff to specifically work with COVID-19 homecare patients, and we recently opened an isolation unit at our Hospice House. We are working hard to keep staff safe during this crisis as we deal with limited supplies of personal protective equipment. Hospice Savannah has already spent over $50,000 sourcing gowns, masks, gloves, etc.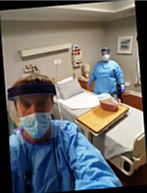 I am constantly amazed by the bravery and passion of my fellow nurses, nursing assistants, social workers, chaplains and allied therapists who daily put themselves in jeopardy to care for others. Your donation helps us to keep our staff safe and our patients comfortable during the most difficult time ever. During these uncertain times, it's challenging for many of us to donate, but we are asking you to please do what you can.
Thank you for your support,
Leslie
Hospice Savannah RN
💝
Organization Information
Employer id number (ein)
58-2215819
Address
PO BOX 13190
SAVANNAH, GA 31416