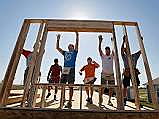 Habitat for Humanity of Rockland County is a nonprofit, interfaith housing ministry that works in partnership with families in need, without regard to religion or ethnicity, to improve the condition in which they live. Habitat for Humanity has a strict non-proselytizing policy. We are people from all walks of life, working together to eliminate poverty housing and homelessness from the world, making decent, affordable housing a matter of conscience and action. Volunteer labor and tax-deductible donations of money and materials enable Habitat to build and renovate homes, with the help of the homeowner/partner families. Habitat houses are sold at no profit, and are financed with affordable loans. Loan payments go into a Fund for Humanity that is used to build more houses.
Every Habitat house is a partnership venture between volunteers and future homeowners, beginning with the family selection process. Primary considerations are the need for housing, the ability to repay the loan and the family's willingness to volunteer the required "sweat equity" hours. Each family is required to contribute approximately 400 hours of sweat equity towards the construction of their home or other Habitat activities. This unique partnership greatly reduces the cost of each house, increases the value of home ownership among all family members and fosters the development of positive relationships within the community for years to come. Most families continue to work with Habitat long after they have moved into their home.
The families we select are living in intolerable and often unhealthy and unsafe conditions. They are living 2-3 people in a bedroom, some in a garage or basement. They never know if they will be evicted from month to month. They are hard working families and even though they often hold 2-3 jobs they can not afford the high price of homes and taxes in Rockland County.
Habitat makes it possible by selling the home at an affordable price, with a minimal down payment and little or no interest on a 30 year mortgage.
Our current project is the renovation of an abandoned 2 story, 3 bedroom house located in the village of Hillburn, New York. We purchased the house for back taxes of $66,000 and will spend another $60,000 in renovation costs. This does not include products and services that will be donated. The interior of the house will be completely gutted down to the framing. We will install a high efficiency furnace and hot water heater, new insulation, electric, plumbing, kitchen, bath and fixtures. The exterior will receive a new roof, windows and doors. The house will be built to Zero Energy standards for maximum efficiency for the homeowner.