Rose Hill Center, a Joint Commission accredited mental health residential treatment and rehabilitation facility licensed by the state of Michigan, opened in 1992 and has since provided treatment to over 1,800 individuals. Service offerings include Residential Rehabilitation programs to help residents develop sustainable self-care management skills and practices; Extended Residential services for those who need on-going supervision and care; Transitional Living in on-campus townhouses where residents practice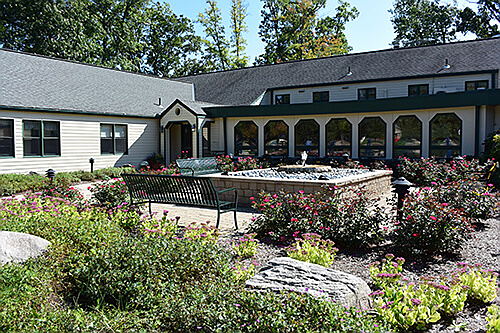 independence in a safe, secure environment; Co-Occurring Residential Services for people who need help managing multiple secondary diagnoses; and Community Support services for graduates living in nearby communities.
Rose Hill is the only facility of its type in Michigan and one of only a few similar programs in the U.S.
Our beautiful 412-acre campus, located northwest of Detroit in rural Holly, MI, has the capacity to care for 80 residents. We also provide services to graduates of our program who live nearby. Our staff includes psychiatrists, psychiatric nurses, medical nurses; specialty therapists, masters-level social workers, and support staff.
Rose Hill Center's programs and personal interactions with residents, families, and staff are guided by our Core Values:
Compassion – We honor the dignity and uniqueness of each resident and are dedicated to helping them improve their lives.
Community – We value our relationships with people. A spirit of teamwork and a place to belong are essential to Rose Hill's success and help empower our residents to achieve their full potential.
Professionalism – We retain competent, trustworthy, well-trained and knowledgeable staff who are committed to the pursuit of excellence.
Integrity – We pledge to be honorable, ethical, and respectful of all of our constituents. This is the foundation of our organization.
Innovation – We foster a dynamic environment that utilizes creative solutions, new programming, and evidence-based treatments that support the needs of our residents.
Wellness – We believe that our residents can achieve recovery when they receive psychiatric care, participate in meaningful daily activity and develop mutually supportive relationships. We are dedicated to making a powerful difference in their lives while at Rose Hill Center and beyond.