Our Mission
To transform lives by advancing health, wellness, and equality.
Our Vision
We are an LGBTQ and people of color health organization that believes EVERYONE
deserves to be healthy and needs access to the highest quality health care. We foster
resilience, strength, connection, health, and wellness for all communities. To us, health
care will always be grounded in social justice.
Our Approach
Our comprehensive, integrated approach to community and individual health puts our clients at the center of our work. Our wide array of medical, mental health, education, and community services are designed to empower people in safe, respectful, and supportive spaces. Individual and community transformations inform our training, consultation, and policy advocacy work.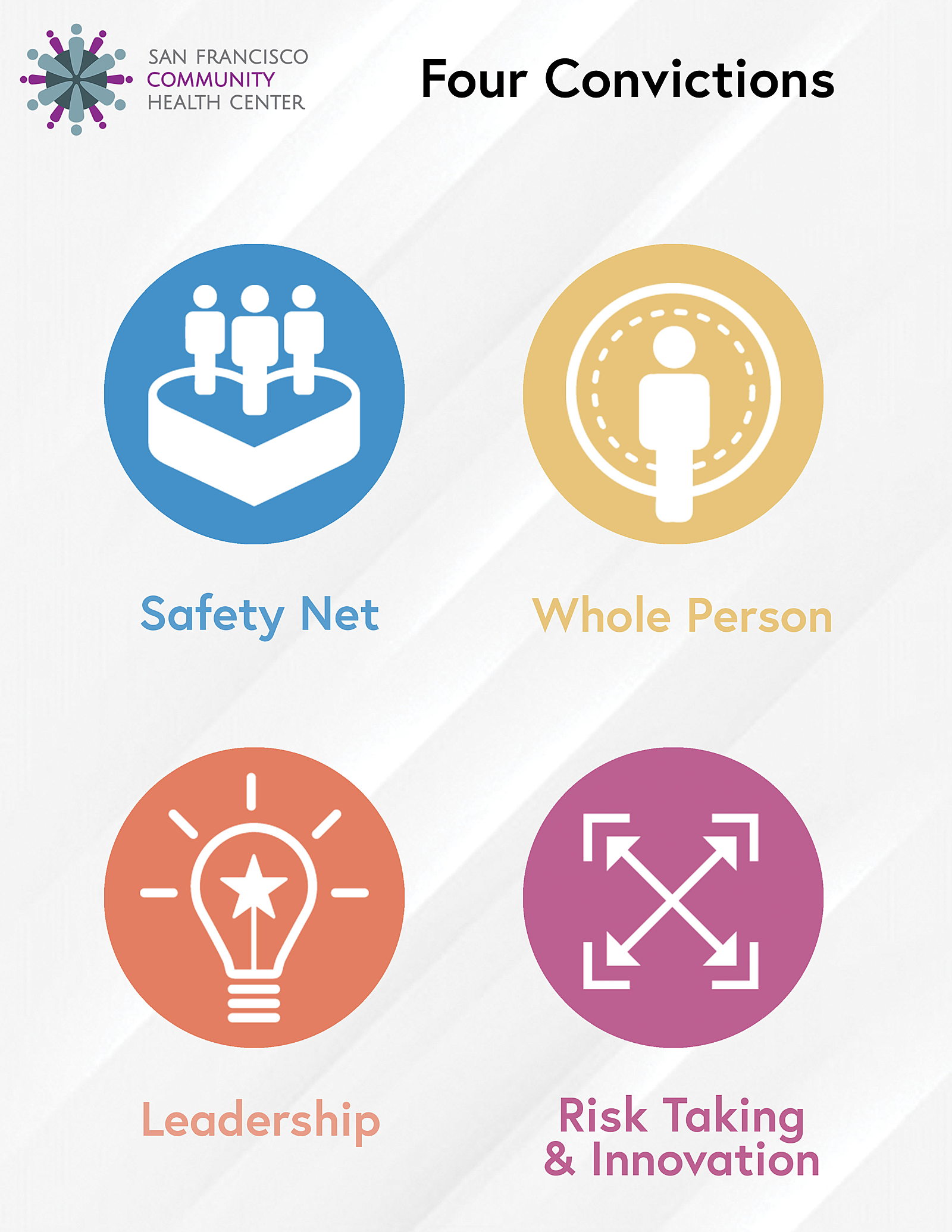 Four Convictions guide the work of San Francisco Community Health Center. The second is "Our Whole Person Approach is Front and Center."
Humans are complex beings. Seeking and asking for help is one of the most difficult things most people can do, and for those that come to SFCHC it is clear to us that they are reaching through many layers of human experience, with all too many of those experiences being negative and life negating. At SFCHC we always look with compassion at the person in their entirety and their wholeness. We reject the siloed, diagnose and treat approach to health care. This is precisely why SFCHC is structured to provide social support, substance use treatment, HIV prevention and treatment, mental health care, and precision health care in one location with a team approach that understands the many layers of being human. SFCHC knows that unless we understand see our clients as whole people, the whole person will not be healed.
Four Convictions inspire the staff and programs of SFCHC. The Third is "Our next level leadership is our Advocacy and Policy work."
SFCHC has a history of working on the front lines for justice, equality, inclusion, intersectionality and diversity. These values are not easily actualized in a world of maldistribution of power, wealth and privilege. For people of color served by SFCHC having a champion who can amplify their voices is essential for full participation in the many areas of our society. SFCHC has championed its values and the needs and contributions of its clients from City Hall to the nation's Capital. It is in our DNA from our grassroots community activist founders in the 80s that SFCHC continues to speak truth to power.
The energy of the staff at SFCHC is unbounded. Our fourth Conviction bears this out. "Our Smart Risk Taking and Innovation will always be in service to our Communities"
In the high stakes technology world of the Bay Area risk taking for maximum monetary gain is the name of the game. The new this or new that gadget seems to be the goal and often focused on making "connections" with others easier, better and more meaningful. The failure of these risks lay in heaps of empty offices in our communities. SFCHC has little margin for error and failure, but we always take calculated risks and push the boundaries when it comes to creating more abundance for the communities we serve. We serve the queerest among us, the most vulnerable and stigmatized in our community. Our 30+ year history has borne this out – when we focus our minds, hearts and souls on a task, there is nothing we can't accomplish.
For SFCHC the risks we take focus on the advancement of the human person in genuine connection to life, liberty and the pursuit of happiness and health. We see the needs and opportunities in front of us as ways to take this unbounded energy and improve the quality of life for those on the margins of society. The ideas that come from front line staff and clients fuel our creative thinking to risk standing up and pushing out the limits of compassionate care for our community.
AAPI POPULATIONS SERVED
Chinese : Filipino : Hawaiian : Japanese : Pacific Islander : Samoan : Vietnamese : Indian : Korean : Pakistani : Thai : Cambodian : Burmese