On November 28th, Tapestry will participate in Giving Tuesday, a national day of online giving. Please join us!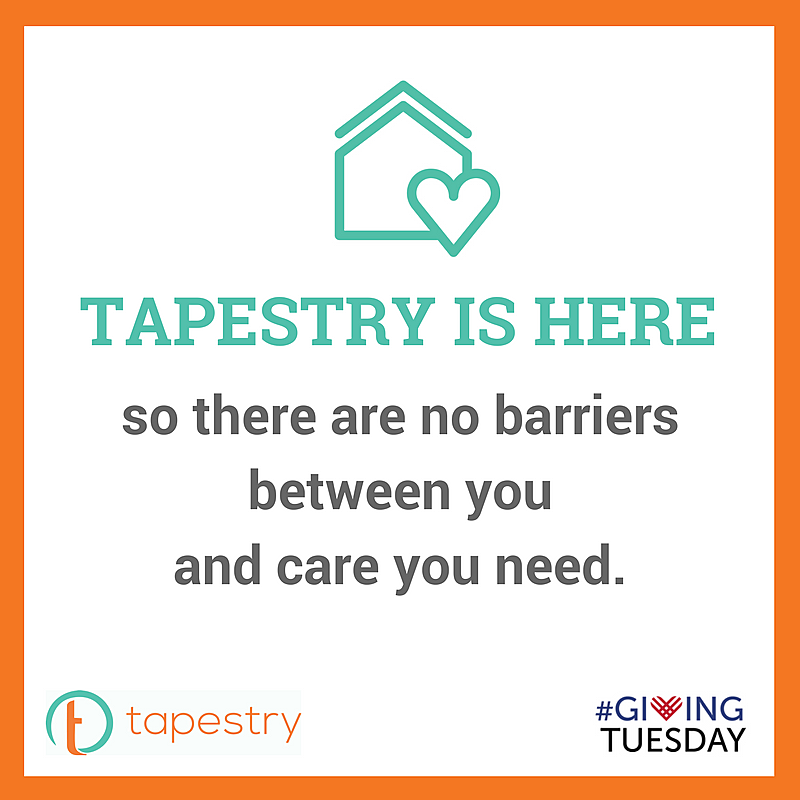 A generous donor has offered a $10,000 match to any Giving Tuesday gifts we receive. Please help us take advantage of this generous offer by making a gift. You'll be supporting Tapestry as a safe space for everyone in the four counties of Western Massachusetts to receive care.
Our Giving Tuesday goal is to raise $20,000, so we can continue to be a place for everyone in our community to get confidential and supportive access to:
birth control
breast cancer screening
healthy foods
safe syringe access and disposal
opioid overdose prevention
HIV and hep C prevention
and much more.
We love being here for you, and on Giving Tuesday you can be here for us. Please make a gift, and help us meet our match. Thank you!
-------------------------------
Tapestry serves over 17,000 people in all four Western MA counties.
At Tapestry, everyone has a safe space to receive the care they need, without fear of judgment or stigma. When clients come to us, they pay based on what they can afford, and no one is ever turned away.
We provide: Sexual & Reproductive Health | Syringe Access & Disposal |
Overdose Prevention | HIV Health & Prevention | WIC Family Nutrition
We believe that high-quality care should be accessible to everyone, regardless of age, race, gender, sexual orientationor income.
The future of health care in our country is uncertain, but Tapestry is committed to making sure that everyone, including the most vulnerable of our neighbors, can access the care they need. Would you like to help support this mission?
With your help, we'll continue to be here, fighting for equal access to care for all women, teens, and men for decades to come. THANK YOU!
To learn more about our programs and the issues we care about, follow us: