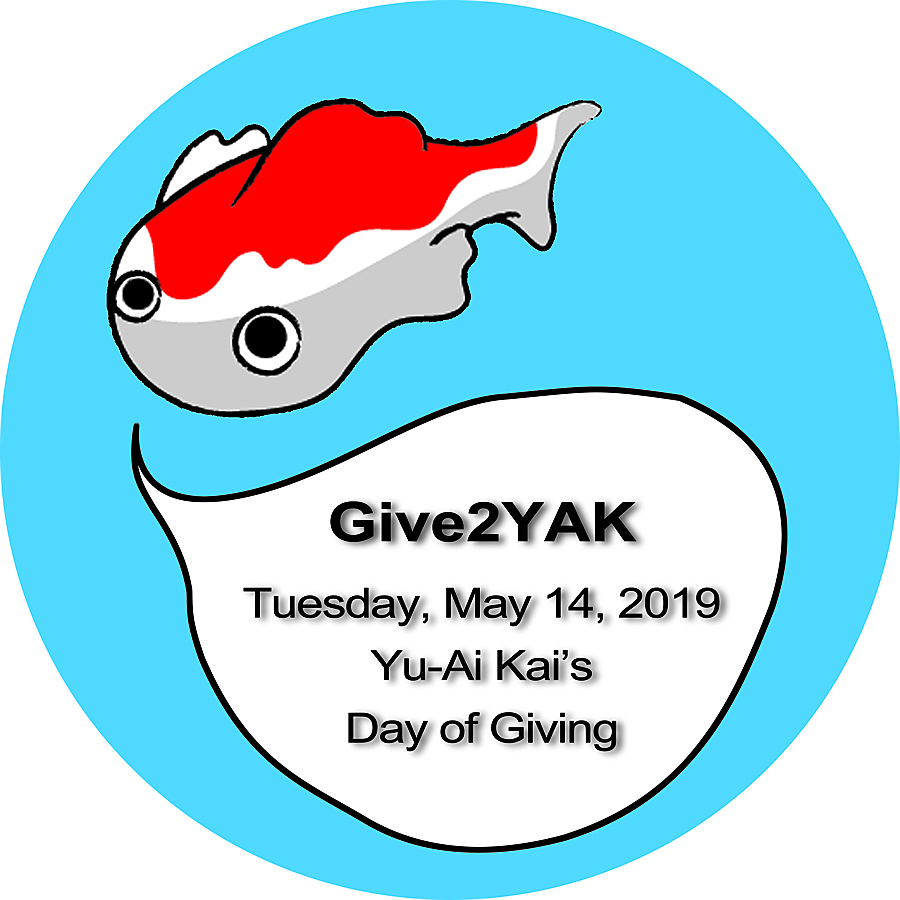 Give2YAK
Yu-Ai Kai's
Day of Giving
Tuesday, May 14, 2019


Double the Impact of Your Donation!
May 14, 2019 is Yu-Ai Kai's day of giving – "Give2YAK – to benefit Yu-Ai Kai's senior services, a nonprofit organization located in San Jose's Japantown. Your donation to Yu-Ai Kai will be matched, dollar-for-dollar* - made possible by our generous Matching Grant sponsors (see below).
This is one of Yu-Ai Kai's largest annual fundraisers – funding vital senior services like the Bilingual Senior Day Care Program, Asian-inspired hot lunch program, activities that support healthy aging, and bilingual/bicultural case management.
The Senior Nutrition program and Social Services programs serve Yu-Ai Kai's mission to promote independent living and advocate for all seniors. Through these programs, seniors can access the help they need and feel empowered to lead healthy lifestyles.
In 2018 with the generous support of $67,500 from nineteen dollar-for-dollar match sponsors, we raised a total of $146,475 (including the match amount) from online, cash and check donations. This low cost fundraiser returned more than 98% of the proceeds for use in essential programs and services for Yu-Ai Kai.
As Yu-Ai Kai celebrates its 45th Anniversary of service to the community's elders, your dollars have never meant more to us. With your support, we can plan for a secure future.
*The current match amount is $70,500
Matching Grant Sponsors (alphabetical):
Wayne and Shizuko Adachi
- In Memory of Mr. & Mrs. Ryuji Adachi
Ken Kai
- In Memory of Yoshio Kai
Ben Katai & Dora Ozawa
Merv Kato
- In Memory of Shizuko Kato
Jane Kawasaki and John Adachi
Kenzo & Jean Kimura
- In Memory of Judy Kimura and Rose Arase
Bob and Nancy Koshiyama
- In Memory of Bill & Michiko Morita and George Koshiyama
Jim McClure/Sue Sakai-McClure
Bryan Quan and Janice Oda
Tori & David Sakurai
Yu-Ai Kai Board
Yu-Ai Kai Monday Handicraft and Social Class
Yu-Ai Kai Thursday Arts and Crafts Class
In Honor of the Yu-Ai Kai Volunteers
Anonymous