True North / Powell Family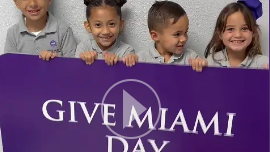 Support True North Classical's mission on Give Miami Day impacting over 1,860 scholars!
$850
raised by 4 people
$1,000 goal
Please help support True North Classical Academy.  
True North Classical Academy is a tuition-free charter school in the classical liberal arts tradition.
Our  purpose is to create scholars that exemplify the classical ideal – excellence in soul, mind, and body. With that firm purpose at the center of all that we do, True North is a truly remarkable school.
Our academic program creates scholars whose achievements place True North in the top 25 charter and public schools in the state of Florida. Our focus on excellence of character shapes the hearts and minds of our scholars to want to pursue goodness and virtue. With a curriculum, culture, and purpose built upon the classical liberal arts tradition, True North's adherence to timeless principles produces remarkable results.