East Texas Chamber Winds 2024 Winter Concert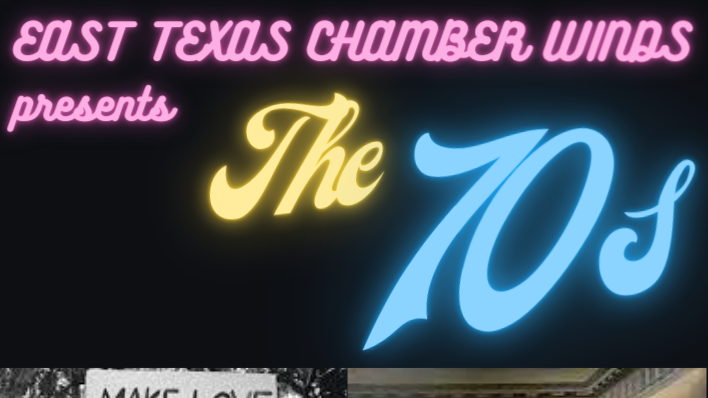 The East Texas Chamber Winds will present its Winter Concert on Saturday January 6, 2024 at 7:00 pm!
$100
raised by 1 people
$2,000 goal
The East Texas Chamber Winds will present our annual Winter Concert entitled, The 70's! The performance will be on Saturday, January 6th at 7:00 pm at the Fredonia Hotel in Nacogdoches, Texas. Light refreshments will be served, and a cash bar will be available. The program will include:
Overture to L'Amant Anonym by Bologne
9 Pièces caractéristiques by Françaix
Sinfonietta Op.188 by Raff
Our goal is to continue to rejuvenate the music scene of Nacogdoches and to assert ourselves as the area's premier musical ensemble. We aim to hire the most outstanding musicians in the region, perform exceptional music that is both entertaining and aesthetically rewarding, and involve as many local businesses, organizations, and individuals in our events as is possible. 
The East Texas Chamber Winds is the only professional classical music ensemble within approximately 100 miles of Nacogdoches, and has provided refined musical entertainment for the people of East Texas since the Summer of 2016. Our chic concerts are hosted at historic venues, are professionally decorated, and include refreshments and a cash bar. Furthermore, our events help to stimulate the local economy by bring in upwards of 100 people each concert. All of whom engage with Nacogdoches vendors for dinning and/or accommodations over multiple days.
The East Texas Chamber Winds is a 501c(3) non-profit organization. For more information about our upcoming projects and how you can support the ETCW, please visit our website: https://www.easttexaschamberwinds.com.