Grow With Us! Good Food Council of Lewiston-Auburn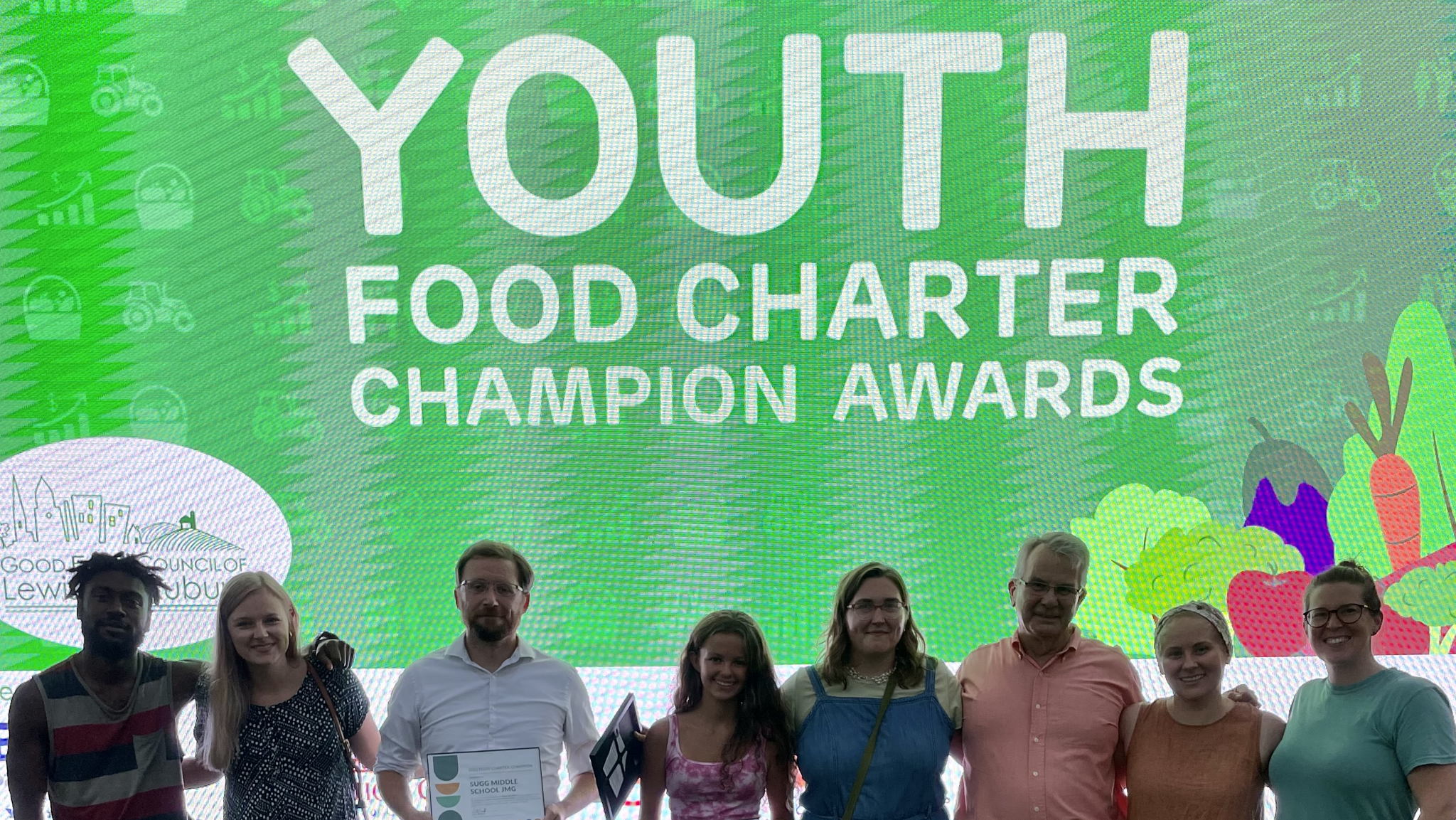 Let's build food security and economic resiliency for the future of greater Lewiston-Auburn!
$1,210
raised by 13 people
$2,000 goal
Who We Are
The Good Food Council of Lewiston-Auburn (GFCLA) is made up of people who live and/or work in Auburn, Lewiston, and surrounding communities. We work to create a vibrant and equitable food system in the greater Lewiston and Auburn areas. As a community-based organization, we work in support of partner organizations, community members, and local producers, catalyzing to create a sustainable and equitable food system from farm-to-fork.

Our Work
The COVID-19 era has brought about a significant disruption in an already fragile food supply chain. Maine imports over 90% of our food, and statewide, 1 in 5 children are food insecure. In some cases for the first time, Maine residents have come to understand the critical importance of having a robust local food system to nourish our communities, while simultaneously adding resiliency to our local economies.
In response, the GFCLA worked to support immediate needs in our local food system, while also continuing to work on long-term solutions,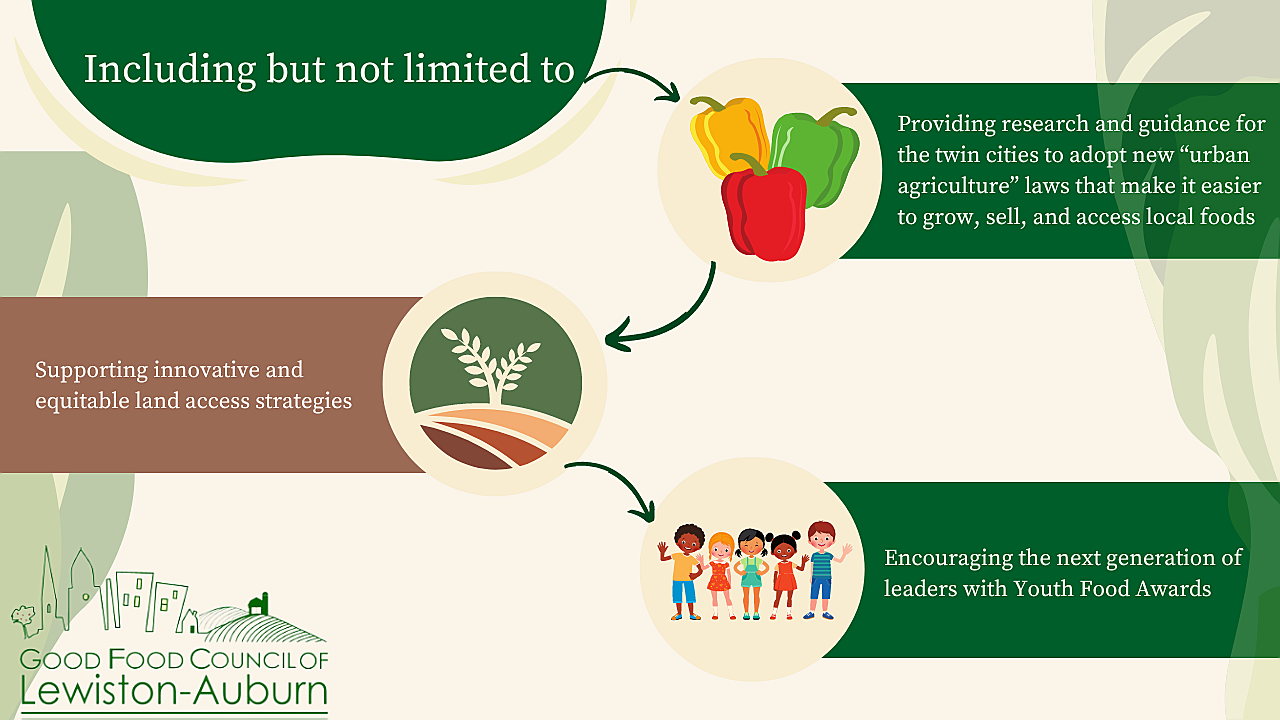 Our key priority has been coordinating the overall implementation of the community-driven Local Foods Local Places (LFLP) Action Plan for Lewiston-Auburn, which connects local food access strategies to city planning and downtown revitalization strategies.
We do this by supporting, connecting, and working alongside a wide range of community members and partners to achieve the action plans' 16 specific and measurable action steps and toward 4 goals.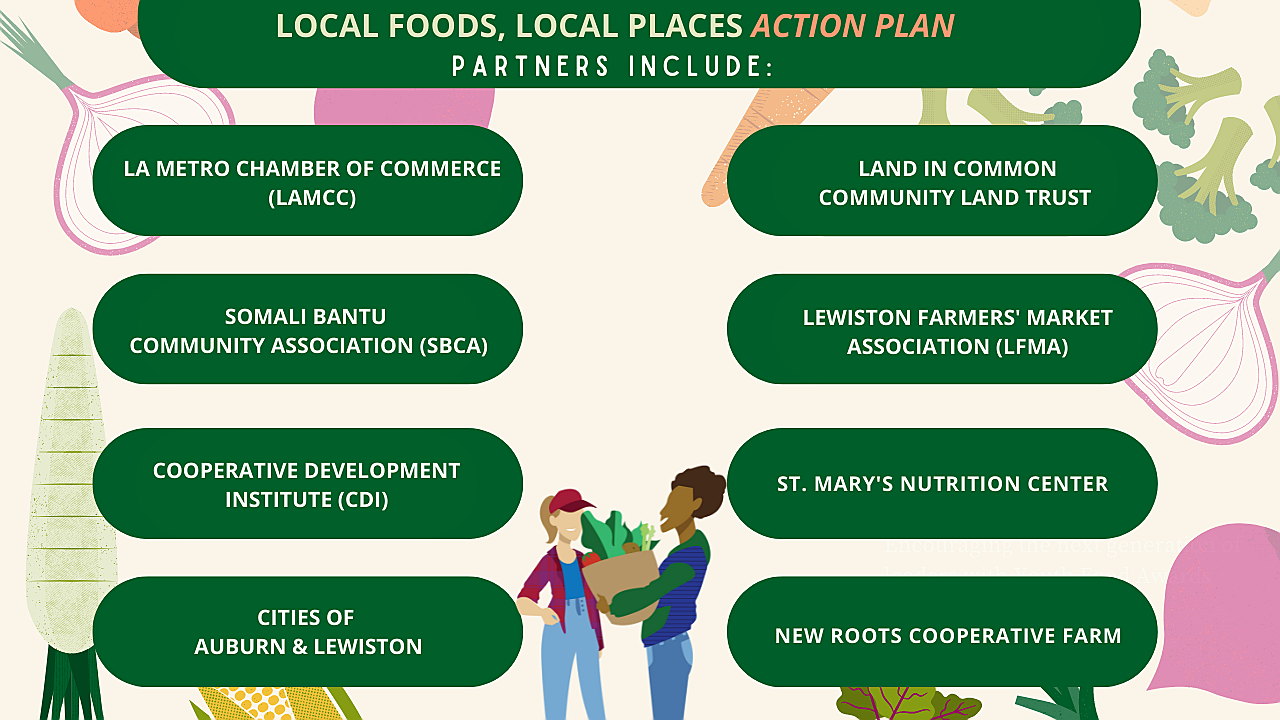 "We are a proud partner of GFCLA in implementing the LFLP Action Plan - from supporting creative place-based solutions to Maine's local food infrastructure gaps, to authentically building local food into our region's brand identity through showcasing our food businesses in the new annual downtown farm-to-table event, Taste the Harvest, and more - we know the power of this work as an economic driver for our region. The GFCLA has been key in facilitating the LFLP network of committed business and organizational partners, which keeps up the momentum and supports long-term success."
- Shanna Cox, President & CEO, LA Metro Chamber of Commerce

Grow With Us!
Our work is ongoing: we will continue to serve as a voice for a healthy food system in greater Lewiston-Auburn and prioritize long-term solutions for food security and economic resiliency. With your help, the Lewiston-Auburn region will benefit from food system solutions that will help us through the next crisis.
If you can, please consider a donation to help us reach our goal!
All amounts are helpful and appreciated.
Thank you for your generous support!
Sincerely,
The Good Food Council of Lewiston-Auburn
2022 Council Members:
Mohamed Dekow, Omar Hassan, Shelley Kruszewski, Jeff Newell, Camille Parrish, Fatuma Saney, Kirsten Walter, Kyra Bleicher, Megan Gagne, Misty Edgecomb, Blaine Flanders, Emma Lorusso, Shelley Norton, & Kate Webber
Staff Coordinator:
Julia Harper