Feed the Funnel for 9/11 Day - Boise State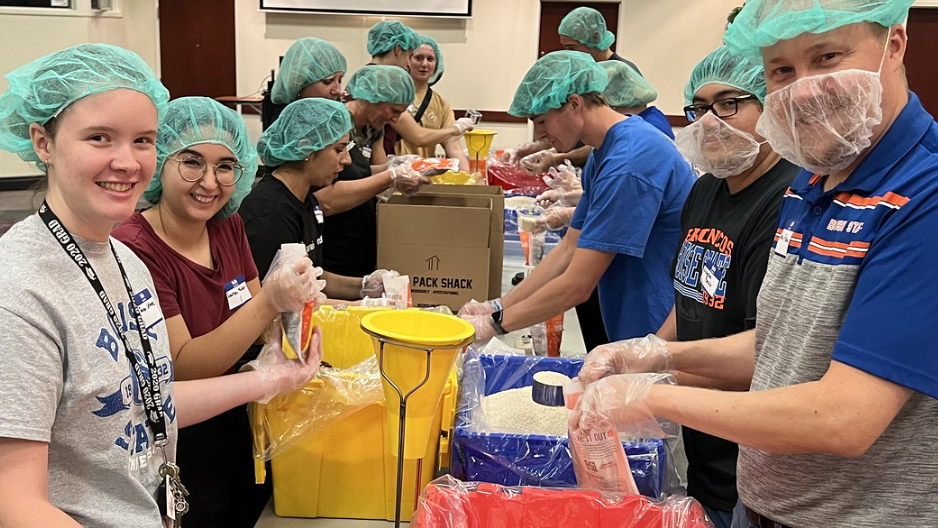 Help provide thousands of meals for our campus and community in September!
$40,340
raised by 86 people
$40,000 goal
Inspired by the spirit of unity, service and shared humanity that rose in the U.S. following the events of 9/11/01, '9/11 Day' - also known as the September 11 National Day of Service and Remembrance - stands as a permanent tribute to those lost and injured, and those who rose in service.  The 'Feed the Funnel for 9/11 Day' Program is helping organize campus volunteer service activities, focused on hunger relief, in observance of 9/11 Day in 2023.
The goal of these projects is to inspire more than 2,500 STUDENTS, plus faculty members and administrators, to join together during the month of September to pack as many as ONE MILLION healthy, non-perishable meals.  With the help of local food pantries and other non profit partners, all meals packed at these events will benefit individuals on their campuses and in their local communities who are at risk of hunger.
This special program is being funded by 9/11 Day and AmeriCorps, and organized in partnership with The Pack Shack's Feed the Funnel program.

WHAT'S A FEED THE FUNNEL EVENT?
On September 22, 2023 we will pack 100,000 shelf stable meals that will benefit our campus food pantry and other local organizations in our community. Prospective recipient organizations include, but are not limited to:
| | | |
| --- | --- | --- |
| St. Vincent de Paul  | The Salvation Army | CityHope Church |
| Mountain View Community Fellowship | Boise Rescue Mission | Amity Campus Food Pantry |
| EL-ADA Community Action Partnership | GiraffeLaugh | Meridian Foodbank |
| Tomorrow's Hope | Holy Apostles Catholic Church | Cascade Food Pantry |
WHY ARE WE DOING THIS?
In recent years, fighting food insecurity in our local community has become the focus of Boise State's Beta Alpha Psi chapter.  In the Treasure Valley 10 percent of families and 14 percent of children are experiencing food insecurity!
In 2022, we hosted a Feed the Funnel event for the first time. It was incredibly successful and fun. We prepared over 58,000 meals due to your support. This year our goal is to double our impact!  We know we can do this because our community is passionate about fighting hunger and helping the community. A Feed the Funnel event provides an opportunity for people from all walks of life to come together towards a common goal. Please join in the effort. 
On September 22, 2023, we are going to have our second annual Feed the Funnel event. Last year's shelf-stable meals were delivered to 22 food banks and pantries, as close as Boise State University (Food insecurity on campus hovers around 25 percent; our donation of approximately 1,000 meals lasted only two months on campus.) and as far away as Cascade, Idaho. There were another 80 on our list that we were unable to help. Every dollar helps stock food pantries by providing shelf-stable meals ... every donation helps put food on a table!  Thank you in advance for your support. 
HOW YOU CAN HELP!
The total budget for our 9/11 Day Feed the Funnel event is $40,000 and a generous grant has already covered 40% of this amount! We would deeply appreciate your generous contribution to help provide the remaining funding.
SPONSORSHIP DEADLINE: AUGUST 31, 2023
Please choose the sponsorship level that's best for you or your organization. You can donate through this page with a credit or debit card, or if you prefer to donate by check, please mail it to:
The Pack Shack
Attn: Boise State 9/11 Day Feed the Funnel program
1091 E Lowell Ave
Cave Springs, AR 72718
The Pack Shack is a 501(c)(3) organization. Tax id 46-3323793. All contributions are tax-deductible. Consult your tax professional.
After you donate, please send your logo and logo link to The Pack Shack to be included on this page.
If you have additional questions about sponsoring this event, please contact Kathy Hurley at Boise State.


OUR GENEROUS SPONSORS
Stars & Stripes: $5,000+
Red: $2,500 - $4,999
Boise State University Department of Accountancy, Accountancy and COBE faculty and staff
White: $1,000 - $2,499
Blue: $500 - $999