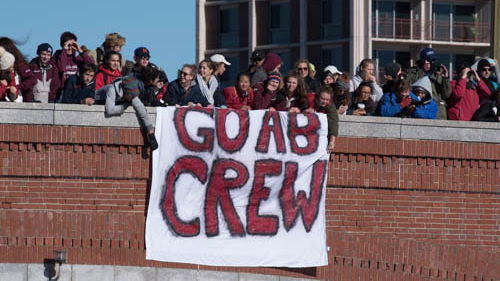 Thank you for helping AB Crew continue to flourish and be a wonderful community assets.
$11,710
raised by 75 people
$30,000 goal
AB Crew continues to grow and thrive with ~100 athletes participating annually and led by 5 talented coaches. The team is a fixture in our communities, cultivating in our athletes a lifelong love of rowing, while developing a sense of deep community commitment, camaraderie, competitive spirit and strong leadership skills. AB Crew athletes train hard and, as many of you experienced, they are forging lifelong friendships and memories. 
It is an exciting time down at Spy Pond!  The Arlington "Cage" area has undergone a massive renovation. The grounds, fence and racks have been expanded and replaced, the land has been re-graded, trees trimmed and a new security fence around the perimeter is currently underway. The "Erg Room" in Belmont is currently undergoing some renovations as well. We continue to make investments in the future of AB Crew, the Arlington/Belmont communities at large, and most of all in our high school athletes. 
And some things do not change…AB Crew is a not-for-profit organization that relies solely on participation fees and donations from generous supporters like you, to cover operating and capital expenses. We are grateful for the continued engagement of our alumni athletes and parents, and we are excited to kick-off our annual giving campaign as we return to the water and the excitement of regatta season! 
Help AB Crew continue its tradition of excellence in rowing and as community youth leaders.  Please make a tax-deductible donation today!