Thanksgiving Meal Delivery 2022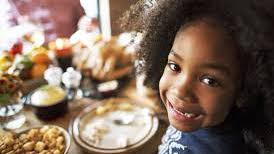 Help us feed individuals and families who would otherwise go without a meal this holiday.
$550
raised by 7 people
$8,000 goal
Thanksgiving Meal Delivery is a program of the Arapahoe County Department of Human Services, in collaboration with Brave Church in Englewood, whose sole goal is to provide a Thanksgiving meal to those who might otherwise go without this holiday season.
The program provides a full Thanksgiving Meal basket, filled with non-perishable food items and gift cards, to Arapahoe County residents involved as clients with the County's Department of Human Services – children and adults who are in crisis, victims of abuse or neglect, or those experiencing financial hardship. In 2021, we served over 315 families which is nearly 1,600 people.
As our community faces increased food insecurities, we are in need of community support to make this program possible. We rely on community members, civic organizations, and business and corporate partners from across the metro-Denver area to help us feed Arapahoe County residents. There are two ways to directly support this program: 1). through the donation of food (specific items listed below) or 2). monetary contributions.
To make a monetary donation please click on the Donate button in the right hand column or at the bottom of this page. All donated funds go directly to program operations and are accepted year-round.
See the food list below to create a full meal basket or donate individual items. Donations are being accepted at the following Arapahoe County offices until October 27th, 2022: Administrative Building, Arapahoe CentrePointe Plaza, Arapahoe Plaza, and Sheriff's Administration.
FOOD LIST:
1 LARGE BOX OF INSTANT MASHED POTATOES
1 LARGE BOX OF STUFFING
2 CANS OF GREEN BEANS
2 CANS OF CORN
2 CANS FRUIT
1 LARGE BOX JELLO or PUDDING
1 LARGE CAN OF YAMS
1 PACKET OF TURKEY GRAVY MIX
1 CAN OF CRANBERRY SAUCE
1 BOX OF CORNBREAD MIX
$25 DOLLAR GIFT CARD TO KING SOOPERS , SAFEWAY or WALMART (for TURKEY)
1 LARGE REUSABLE TJ MAXX/MARSHALLS/SIERRA BAG ($1)
FUN EXTRAS: snack size items- granola bars, squeeze apple sauce, cheese its, easy mac, etc.
*All donations are tax-deductible as allowed by law.
To learn more, please contact Kala Slater, Volunteer and Community Outreach Manager at kslater@arapahoegov.com