ASASE YAA YOUTH SUMMER EMPLOYMENT INITIATIVE
Launches June 8th. Providing summer employment for 20 youth (ages 14 - 19).
$8,044
raised by 112 people
$50,000 goal
ANNOUNCING!
Update posted 3 years ago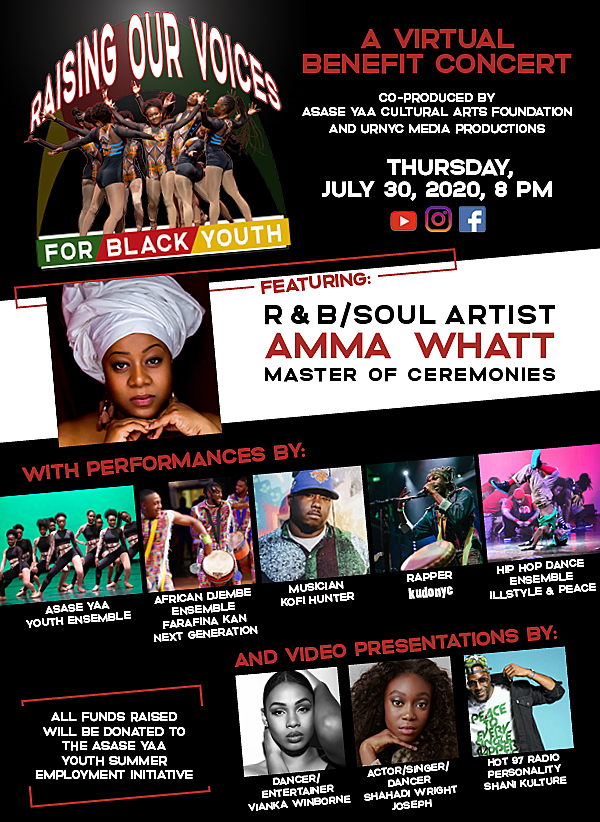 We're incredibly excited to announce the premiere of our first virtual performance event, RAISING OUR VOICES FOR BLACK YOUTH BENEFIT CONCERT, Thursday, July 30, 2020 at 8 PM.
It will be broadcast via OBS streaming services on YouTube, Instagram, and Facebook. All funds raised from the concert will be donated to our Asase Youth Summer Employment Initiative Mightycause crowdfunding campaign, which has been running since early June. Our goal is to raise $50,000 to employ 20 teenage youth (ages 14-19) to work at the Foundation and its 14th annual Children's Summer Arts Camp.
R & B/Soul artist Amma Whatt will serve as Master of Ceremonies of the 45-minute concert, featuring guest performances by our Asase Yaa Youth Ensemble, African Djembe ensemble Farafina Kan Next Generation, musician Kofi Hunter, rapper kudonyc, and Philadelphia based hip hop dance ensemble Illstyle & Peace. In addition, the benefit event will include video presentations by dancer/entertainer Vianka Winborne (Drake, Sean Paul, and an alumni of the Asase School of the Arts), Hot 97 radio personality Shani Kulture, and actor/singer/dancer Shahadi Wright Joseph (starred in Jordon Peele's hit movie US).

RAISING OUR VOICES FOR BLACK YOUTH is co-produced by the Asase Yaa Cultural Arts Foundation and URNYC Media Productions. Donations can be made (a minimum of $5.00) here on MightyCause or via text, 844-844-6844 using the code YSEI.
The Mightycause crowdfunding campaign runs through August 15th. The benefit event will be available for viewing on YouTube after it premieres on July 30th.
We hope you will take the time to tune in to our virtual benefit event. We thank you in advance for your support.
---
ABOUT THE ASASE YAA YOUTH SUMMER EMPLOYMENT INITIATIVE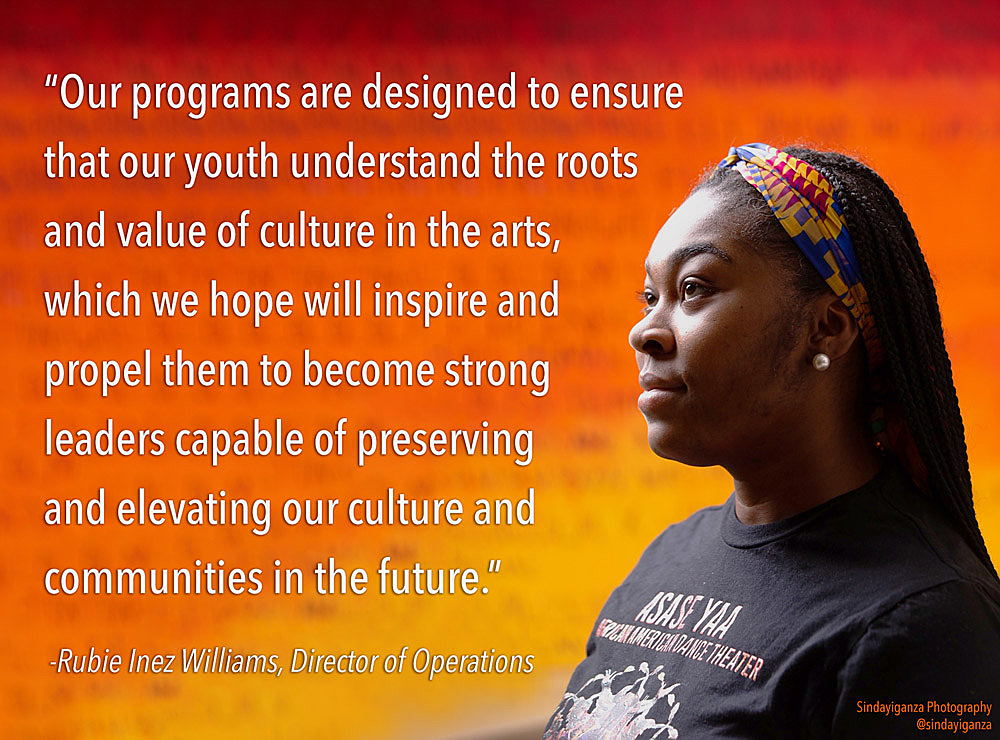 Asase Yaa Cultural Arts Foundation is a 501c3 non-profit organization based in Brooklyn, NY that is dedicated to fulfilling our core tenets to Enrich, Educate, Entertain, and promote the importance of cultural performing arts to youth and adults in our community. This is our 19th Anniversary and like so many other non-profit schools and organizations throughout the Tri-State area and the country we're being extremely tested and challenged by the COVID-19 pandemic to find creative ways to best serve the health and safety of our students and community during shelter in place and mandated quarantining.
We have always believed and understood that if we invest in our children, we will grow a powerful community. We live by the tenants "It takes a village to raise a child." Since all public schools closed in March, we were forced to cancel our annual fundraiser and our School of the Arts Finale concert. In lieu of our regular curriculum, we have offered over 30 virtual dance and drum classes including; Capoeira, African dance, Hip Hop, Tap, Ballet, a djembe drum, and a stretch class.
We are launching the ASASE YAA YOUTH SUMMER EMPLOYMENT INITIATIVE, our first-ever crowdfunding effort for $50,000 to provide employment for twenty (20) youth (ages 14 - 19) to work with our organization in various capacities. Our employment program is designed to fill the void left by the cancellation of NYC's Summer Youth Employment Program. The youth will participate in training and working within a nonprofit arts organization and toward personal planning that all youth should experience. Our youth workers will be supervised by Asase Yaa staff for a duration of 6 weeks while involved in this development and training program, from June 29- August 7, 2020.
We aspire to empower and strengthen our youth by offering them an opportunity to learn, study and experience some of the skills and necessary activities to have an impact as a cultural arts organization or any business within their own community. We feel it is vital to ensure our youth have a productive, safe, and financially rewarding summer.
Asase Yaa's youth employees will be working weekly assisting the Foundation teachers and staff in daily operational activities such as event planning, financial budget forecasts, and researching other cultural arts organizations. They will also be provided with training in resume development, the operation of non-profits as a business, and understanding organizational programmatic impact. Participants in the employment initiative will also work with the Foundation's 14th Annual Children's Summer Art Camp, which attracts 80-100 youth annually. The day camp is a six-week program that is scheduled from June 29 – August 7, 2020.
Our constituency is predominantly minority families living in New York City. The stats have revealed that African Americans make up 28 percent of COVID-19 deaths — even though they are just 22 percent of the city's population. The Citizens Committee for Children in New York noted that in short, the risks that existed before the crisis are exacerbated now, jeopardizing health, housing, education, and safety; triggering student learning loss, declining mental health, increased hunger and homelessness, as well as potential child welfare involvement and domestic violence, among others.
To keep our supporters and the wider community informed about this initiative we will be filming the various activities taking place and create a short documentary of the youth, their experience, the impact it has had on them, and how the skills learned will benefit them throughout life. We are committed to making sure that our youth are not idle this summer and are given an opportunity to feel self-reliant and learn the inherent values of contributing to their community.
We would sincerely appreciate and encourage you to contribute to the ASASE YAA YOUTH SUMMER EMPLOYMENT INITIATIVE and donate whatever you can to help us serve our youth and reach our target goal of $50,000. Our campaign will run through August 15, 2020.
Please be advised that your donation is tax-deductible and the 100% of the funds raised will be used to support our Youth Summer Employment Initiative.
Here are several donating tiers that you may want to consider:
$500, $250, $100, $50, $25, or any donation amount with a minimum of $5.00
Thank you in advance for your consideration and support.
TESTIMONIALS:
Assemblywoman Stefani Zinerman
Actress Aunjanue Ellis
Instagram