Augusta Might Not Make It Without HT's Help!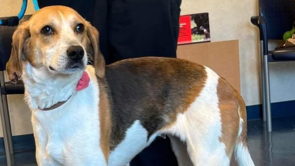 Poor Augusta needs immediate medical attention before her heartworm disease worsens!
$800
raised by 5 people
$800 goal
Pretty girl Augusta was found wandering as a stray in rural VA. She was hungry, scared and lonely, just desperate for a kind person to take her in. Augusta was taken to a shelter where she has been waiting patiently for someone to adopt her, but sadly she has been overlooked for quite some time. To make matters worse, this sweet girl tested positive for heartworms and needs treatment as soon as possible. The shelter is unable to fund her treatment and as time goes by, her prognosis could get worse without help. Homeward Trails would love to give Augusta her health back, but it is an expensive feat to treat a dog with heartworm. It would be devastating to leave Augusta behind because of financial reasons, which is why her rescue being sponsored in a top priority. Please help this sweetheart get out of the shelter and into a foster home where she can focus on healing. Your sponsorship will give Augusta a brand new lease on life and the gift of health!