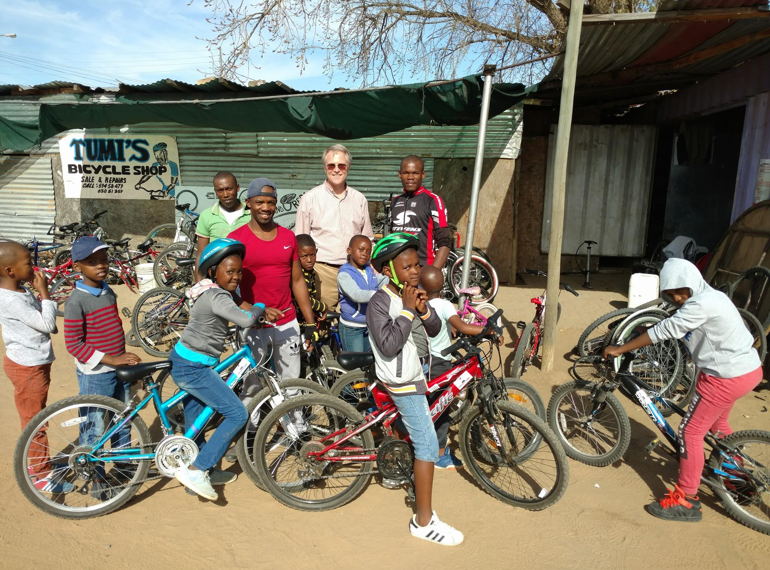 We're sending bikes to orphans and building a bicycling culture in Lesotho - it's that simple!
$7,415
raised by 31 people
$12,500 goal
We're Bringing Cycling to the TY District!
Update posted 2 months ago
Our next container (#11!) is scheduled for Spring 2023 to Mr. Mmeke Mapanya, who will turn it into the first ever bike shop in the Teyateyaneng (TY) District. Meke is a certified master bike mechanic that has been helping kids with bicycles for many years. His chosen location is on the Main Road, great for advertising and access. As per our program, Mmeke will contribute a significant amount to pay in-country import and trucking costs. Meke is committed to spreading the joy of utility of bicycling in the Kingdom. Thank you for contributing to this life-changing opportunity! - Dave Gorman
Bikes for Lesotho was founded by Dave Gorman in 2012 to send used bikes from Chicago to kids in Lesotho, 100,000 of whom are orphans of the HIV/AIDS epidemic. Until 2012, there were very few bikes in the kingdom. Our first shipment arrived in May 2013 and we've sent ten containers with 6,000 bikes!
We are seeking monetary contributions to ship containers with 500-600 bikes each. All funds are for shipping costs, and are managed by Working Bikes, a 501c3 organization in Chicago (www.workingbikes.org). The cost to collect, repair, and ship is only $25 per bike. Fundraising continues now for an eleventh container.
In addition to MightyCause, checks may be mailed to Working Bikes (payable to the same but add memo for "Lesotho") at 2434 S. Western Avenue, Chicago, IL 60608. You'll receive a tax letter in return.
Visit our page at https://www.facebook.com/BikesForLesotho or contact us at bikesforlesotho@gmail.com! Thanks for your support!