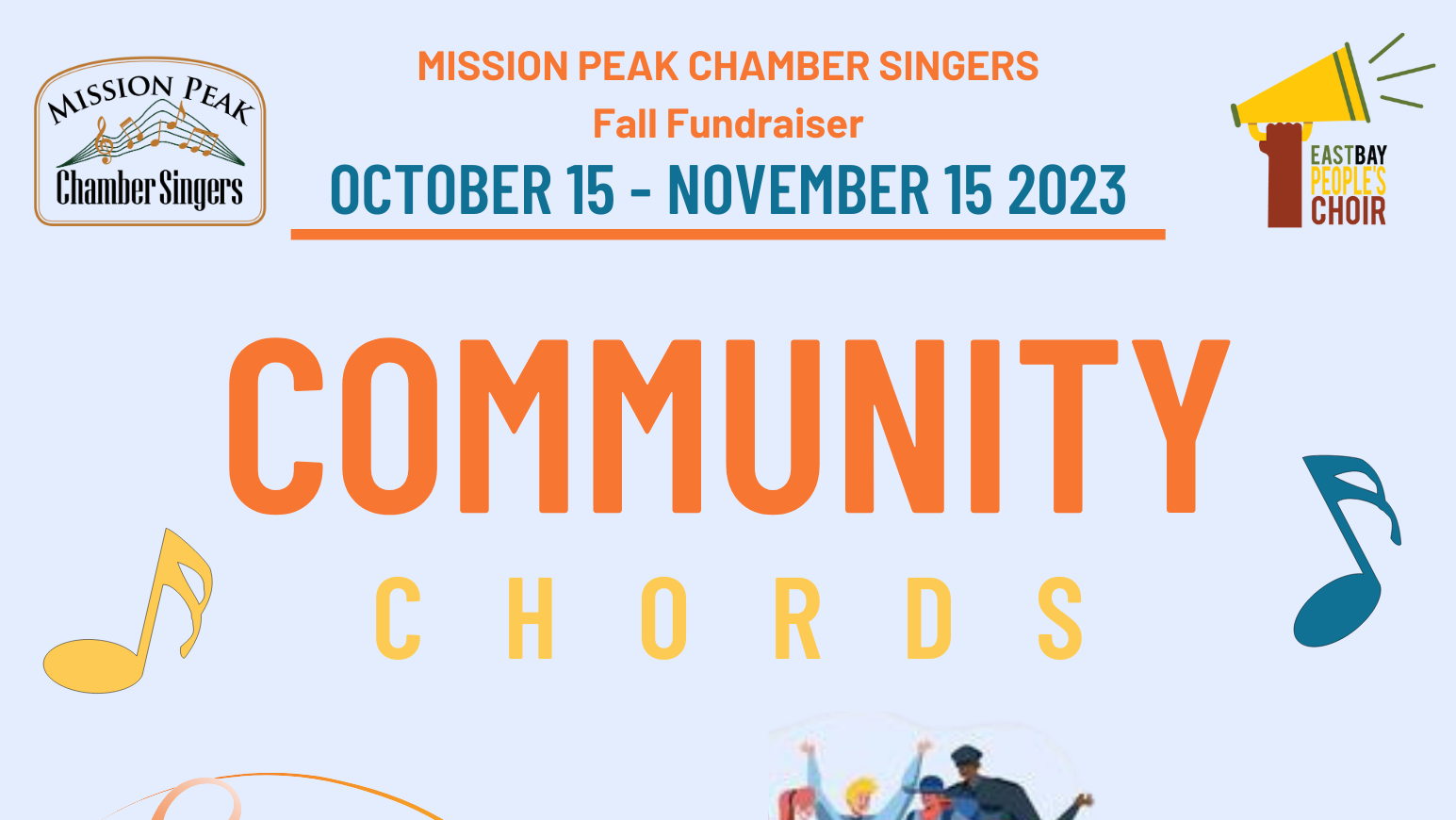 $25,294
raised by 75 people
$30,000 goal
Mission Peak Chamber Singers, Inc. (MPCS) champions the cause of music as a community enterprise and a medium for social change. Upholding our mission of "Building a Joyful, Vocal, and Involved Community through Song," MPCS inspires audiences through the transformational power of choral music. MPCS has proven itself a vibrant and engaging asset, rendering exquisite choral works while fostering inclusion for all in the 2018 launch of a sister "all comers" choir, the East Bay People's Choir (EBPC). Open and free to all with no barriers, EBPC singers of all ages, backgrounds, and abilities share in the joys of choral singing in a warm, welcoming environment. 
We had an exciting 2022-2023 Season and will be keeping the ball rolling! We had our first Beer Choir event at Jack's Brewing Company and hope to make this an annual tradition. We also had a spectacular May concert, Made In California, where we had the unique opportunity to collaborate with a Shastriya Nritya dancer. We'll be continuing the trend of these innovative collaborations in our May concert, Illuminare, with guest artist Fattah Abbou who will be sharing his expertise in Moroccan music with us. 
Now, we are asking for your help to continue providing unique and inspiring music to the city of Fremont. From October 15th until November 15th, please consider supporting the MPCS/EBPC raise $30,000 for our 2023-2024 season. With your generosity, we can provide more accessible ways for everyone to enjoy live music and continue to expand our organization and outreach. We ask you to be another strand in our community cords, so that we can keep singing and growing.
Donor Levels:
Champion ($5k+)
Benefactor ($1k-$4.9k)
Devotee ($500-$999)
Ally ($100-$499)
Enthusiast ($50-$99)
Well-Wisher (under $50)
If you represent a business that would like to sponsor MPCS, please contact info@chambersingers.org for more information on our business sponsorship options.