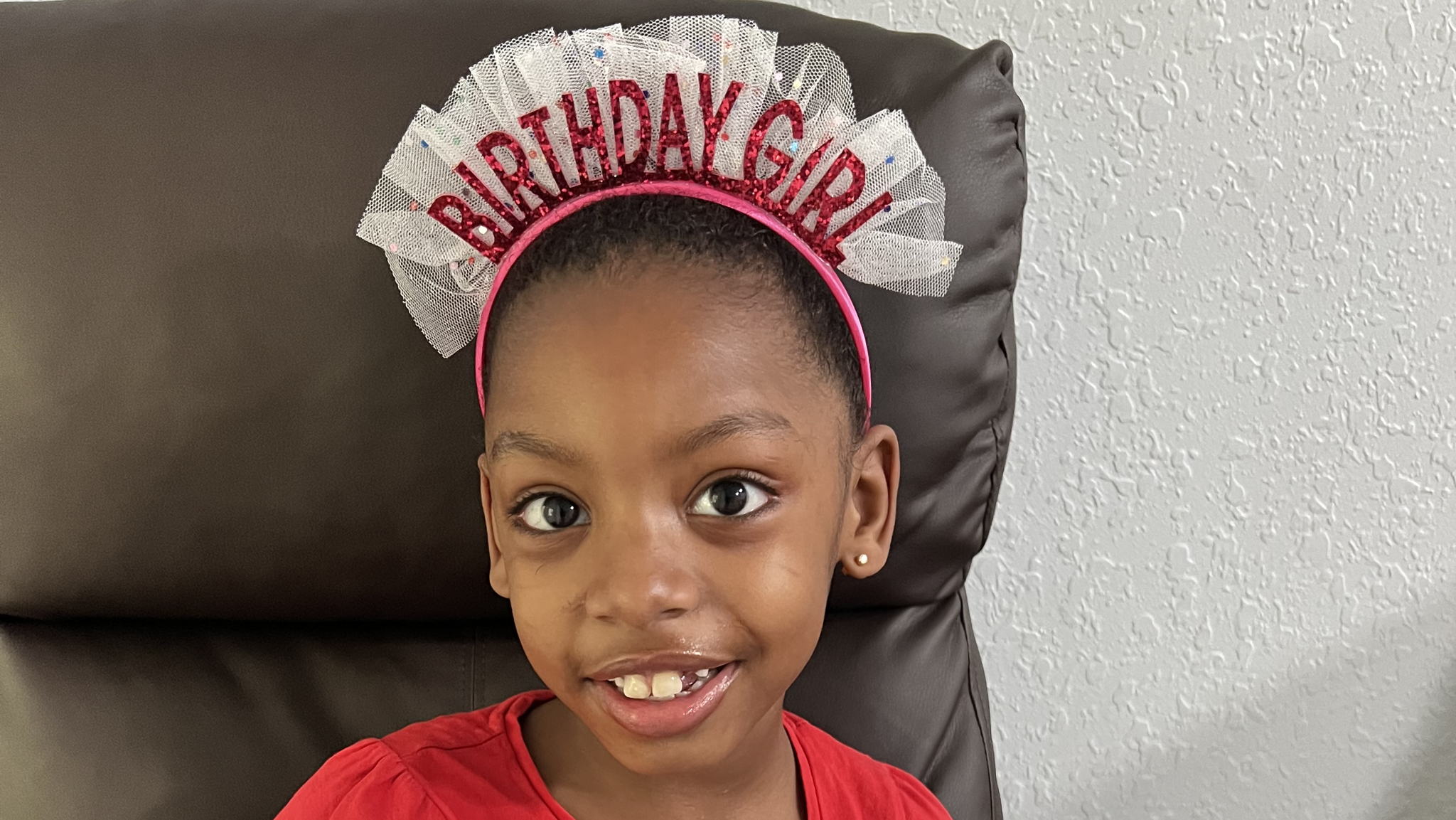 $2,260
raised by 23 people
$23,000 goal
Hi! Meet Leia Loney. Leia is an active, happy, and full-of-life 7-year-old with intractable epilepsy, cerebral ataxia, and developmental delays. A seizure-alert dog would help our family keep Leia safe and provide her with additional support for mobility. Thank you for taking the time to read her story.
Leia's story:
Leia was born a happy and healthy baby in February 2016. In March 2017, Kurt and I woke up to our worst nightmare. We didn't know what was happening at the time, but our Jelly Bean was having a febrile seizure.
After running some tests, the doctors established Leia had an ear infection that triggered a high fever, causing the seizure. We were told there was a high probability she wouldn't suffer another, but two months later, she had another seizure and ended up in the ER.
After countless hospital stays, tests, EEGs, VEEGs, and MRIs, our sweet girl was diagnosed with epilepsy. Our family later underwent genetic testing, and Leia was diagnosed with cerebral ataxia.
Since receiving her diagnosis, our family's lives have drastically changed. We've tested 10 different medications, but none resulted in seizure control. We also tried the keto diet in 2020 and went through testing for potential surgery, but she's not a candidate for surgery.
Nothing prepares you for this journey. Watching your child have a seizure and feeling completely helpless is the worst.
Leia faces challenges daily due to her speech and developmental delay and the risk of uncontrollable seizures. One thing is certain, though — we have a princess with the strength of a warrior. She's the true definition of fortitude and bravery. Her fighting spirit shines through daily.
We're thrilled Leia has been approved to receive a seizure alert dog through 4 Paws for Ability. The seizure dog will be trained to alert us before and during the seizure. Leia's seizures start as partial seizures but turn into convulsive seizures if we don't administer the rescue medication immediately.
The scariest seizures come at night when we're sleeping. Her seizure-alert dog will be trained to help with balance and behavior disruption. We know the dog will give our family peace of mind, safety, and bring a lot of joy and independence to her life.
A service dog from 4 Paws for Ability costs between $40,000 and $60,000 to raise, train, and place with a family. We're responsible for $23,000. After we raise funds, finding the perfect dog for Leia will take 2 to 2.5 years.
Thank you for taking the time to read Leia's story. Here are a few ways you can help:
Donate on this site

Mail a check directly payable to 4 Paws for Ability (Please indicate the donation is for Leia Loney)
4 Paws for Ability
207 Dayton Ave
Xenia OH 45385
https://4pawsforability.org/donate-to-4-paws
You can also follow Leia's journey on
https://instagram.com/leialoney?igshid=YmMyMTA2M2Y=