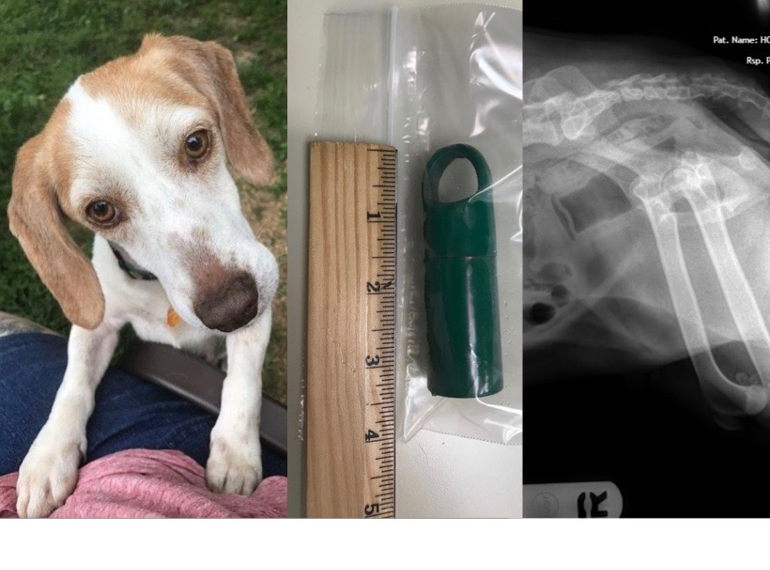 $8,570
raised by 243 people
$4,200 goal
We brace ourselves for sad stories in this work. We try to move through that part and get to the part where we get to balance that equation with outstanding love and care. Like Mr. Rogers' used to tell his preschool viewers, "When you see something really scary on the news, look for the helpers. There are always helpers." Well. The story of Huggles is a very disturbing one, and we are sorry to have to tell it to you. But we need to be the helpers.
This nothing-but-sweet beagle/basset mix came into a shelter as a stray in terrible shape. By the time she got to us she was in enormous pain, and appeared to have a uterine infection. We spayed her, and got her on antibiotics. Things improved a bit, but then worsened. She was bleeding heavily from her vulva, and she was becoming lethargic. The x-rays looked very strange. We had to opt for exploratory surgery, suspecting a foreign body.
What that surgery revealed was the worst case of abuse the vets had ever seen. This dog had been sexually assaulted with a broom handle, the plastic end of which broke off inside her and caused horrific infection. There is no other explanation for the internal damage the vets saw, and the handle inside this dog.
It is hard to live in a world where people do this kind of thing. And we can all just crumple to the floor and give up. Or we can give into rage. Or we can make the only sustaining choice, the only choice that makes it possible to keep going: We can be the helpers.
Sweet, loving Huggles is currently snuggling and wagging her tail, knowing she is safe in foster care. She is going to recover. We now have $4200 in unexpected veterinary bills for her care. If you are glad we are here to do this work, and you'd like to help prove that the hopeful side of the equation is stronger, please donate to Huggles.