The Snuggliest Fuzzy Puppies Need a Home!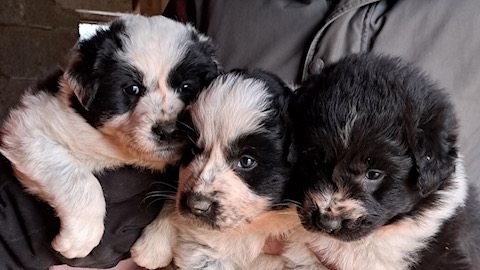 These precious pups would love to curl up in a new home for Valentine's Day!
$550
raised by 4 people
$750 goal
Emerson, Lake and Palmer are too cute for words! These adorable 8 week old Border Collie/Great Pyrenees puppies are currently living in a rural shelter in West Virginia. They are so precious that we can't believe that no one has adopted them yet! Emerson, Lake and Palmer were sadly the result of an unwanted pregnancy. Their Border Collie mama accidentally got pregnant by a stray Great Pyrenees and although the puppies were not planned, the owners want what is best for them. They are doing the right thing by getting the mama spayed and just want these sweet babies to find good homes. While getting them into loving families is of upmost importance, Homeward Trails unfortunately cannot help this litter until they are sponsored. Three puppies to transport, three puppies to visit the veterinarian, and three puppies looking for new homes is quite an undertaking. With your donations though, three families can have their Valentine's Day wish come true - a new dog to love and cuddle for years to come! Please share the love and help rescue them today.