#SupportUkraine Humanitarian Effort
UCCA's Fall Initiatives delivered to Ukraine
Update posted 2 months ago
UCCA's humanitarian fundraising is currently being prioritized on initiatives which will keep our fighting men and women, along with the millions of internally displaced people, fed, warmly clothed, sheltered and healthy this Winter.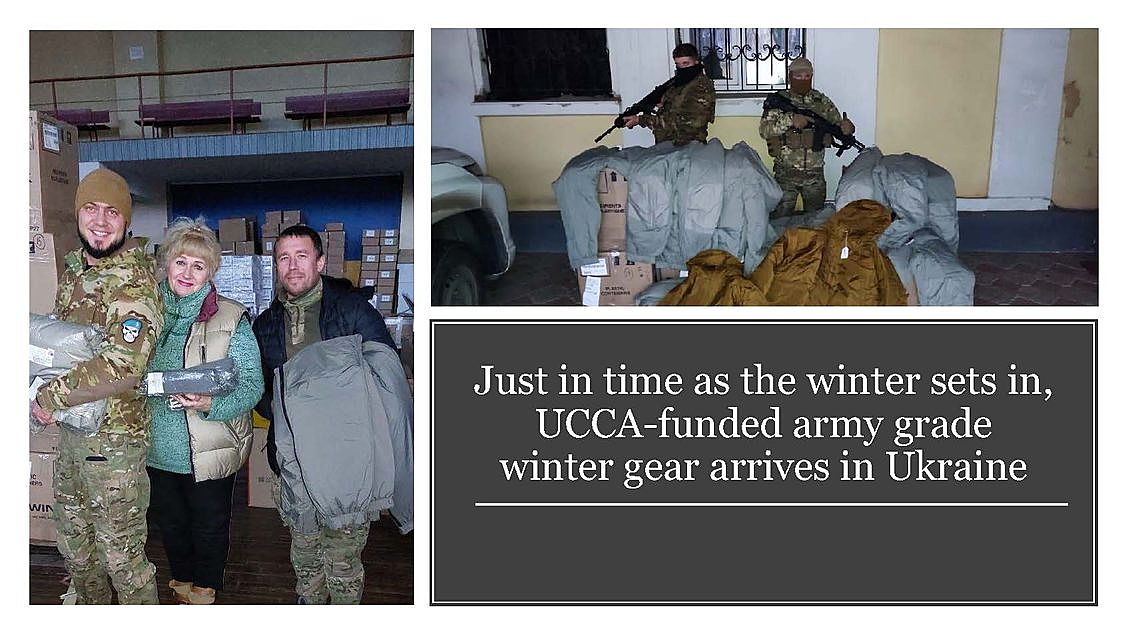 November 23 Report (

LINK

):
Warm winter gear and supplies include generators, sleeping bags,
gloves, fleece jackets, cots, and boots;
UCCA's Kyiv Bureau spent 3 days prepping and packing several
trucks with vital humanitarian aid supplies for the newly liberated areas in the Kherson and Mykolaiv oblasts;
UCCA-funded medicines were delivered to both Mykolaiv & Bakhmut;
To mark the launch of the 90th anniversary year of the Holodomor, Stalin's Famine-Genocide of Ukrainians, UCCA's Kyiv Bureau distributed 400 historical books to libraries in towns of Eastern Ukraine that have recently been liberated;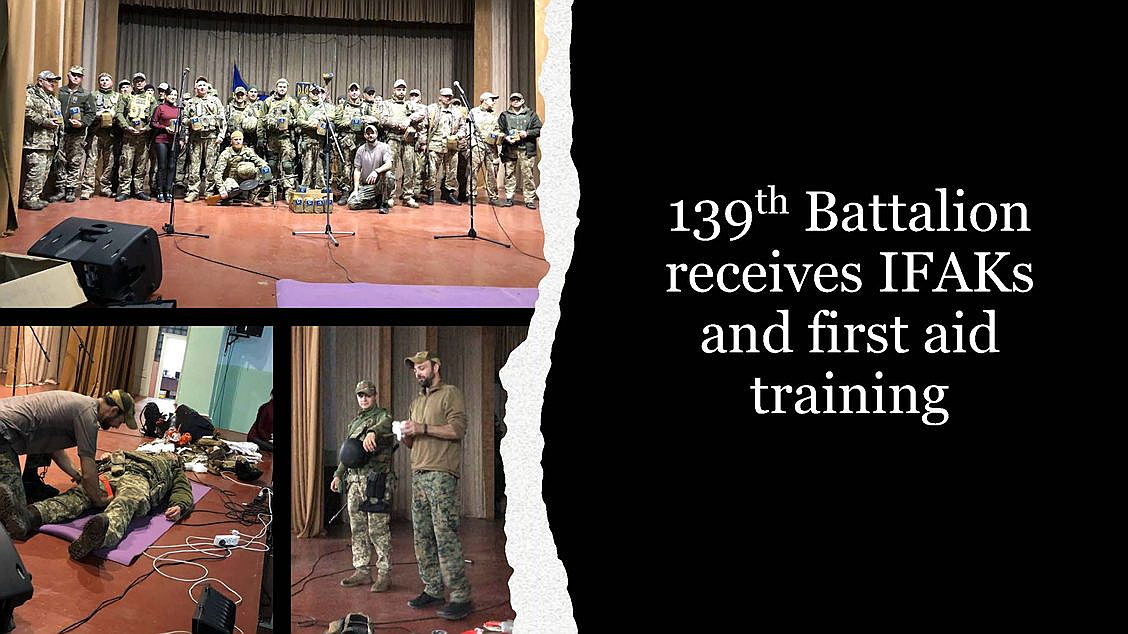 November 11 Report (

LINK

):
Vital life-saving Individual First Aid Kits have been delivered to fighter pilots in Ukraine's Air Force;

Additional UCCA purchased IFAKs arrived in Ukraine for distribution to the frontlines by our partner Operation White Stork;

Winter undergarments ordered, purchased & delivered by UCCA's Kyiv Bureau for transport to the front lines;

Humanitarian Aid - including food and hygiene supplies - continues to be delivered to Internally Displaced Ukrainians;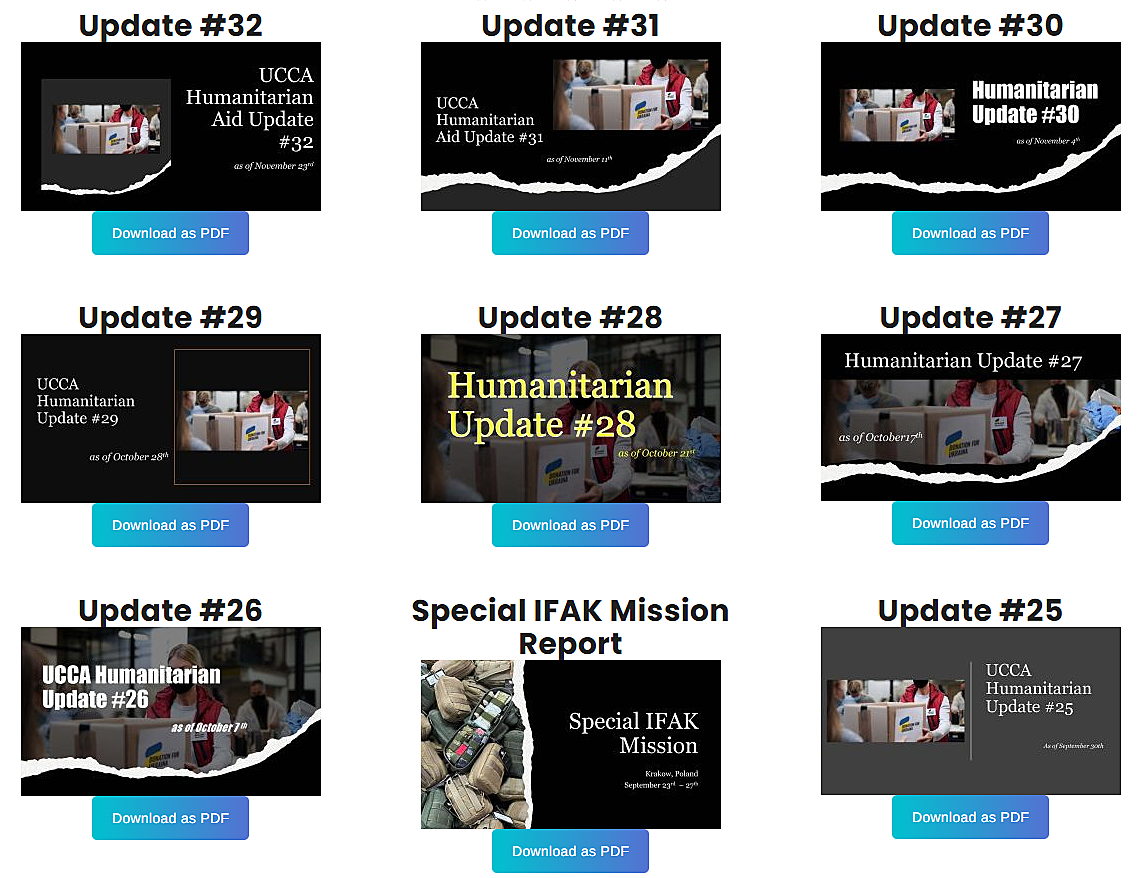 Russia's unprovoked invasion of and barbaric war against Ukraine has created the largest humanitarian crisis Europe has seen since WWII. Over 6.5 million Ukrainians have been forced to flee the ravages of war, while at least 8 million remain internally displaced within Ukraine's borders.
To meet the humanitarian challenges, the Ukrainian Congress Committee of America (UCCA), the largest umbrella organization representing the interests of the nearly 2 million Americans of Ukrainian descent, has launched a nationwide fundraising campaign to provide relief for the growing number of those in need and continues to coordinate vital humanitarian assistance with various organizations on the ground.
Even before Russia's unprovoked war UCCA's CAU/RODU worked with one of our partners "AICM-Ukraine" Foundation (Association Internationale de Cooperation Medicine) to help stock several warehouses in Ukraine with medical and pharmaceutical supplies. The initial stockpiles have been depleted, but the warehouses continue to be resupplied so that humanitarian aid can be delivered to those in urgent need.
UCCA has also been working with partners to supply vital life-saving military first aid kits – IFAKs to our defenders of democracy. These kits are assembled in Europe and then are transported into Ukraine and distributed directly to the frontlines. To date, over 20,000 IFAKs have been delivered.
UCCA's humanitarian efforts are also providing free meals to the IDPs, wounded warriors as well as to several territorial defense units. Working with our partner in Poland, UCCA is supporting a program that provides food and shelter for those fleeing the ravages of war.
Since before Ukraine's renewed independence in 1991, UCCA has been on the ground in Ukraine, working with pro-democracy, humanitarian NGOs. Thus, be assured that all of UCCA's programs are working with long-standing partners who have been vetted. Please know that every penny donated to UCCA's Fundraiser will go directly to our humanitarian aid effort – NO money is being diverted at the top or dedicated for administrative overhead.
Ukrainians are fighting today in defense of our shared American and Ukrainian democratic ideals. We need your continued support! If we fail to help them in this fight, this will be a failure for all of us.
All donations to UCCA's Council on Aid to Ukrainians are tax-deductible.
Всі пожертвування до УККА-РОДУ оподаткуванню не підлягають