Massachusetts IOH Foundation Fundraiser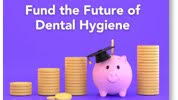 Please donate to the Institute of Oral Health Foundation during Dental Hygiene Month and beyond!
Giving Tuesday 2023
Update posted 19 days ago
 #GivingTuesday is coming up! Contribute to the ADHA Institute for Oral Health Foundation to support fellow dental hygienists through scholarships and grants that help advance the future of our profession and oral health for all. Follow us on Tuesday, November 28 as we work to contribute to this year's $110,000 need. 20% of every dollar raised on Giving Tuesday will go towards feeding a family in need this holiday season. Make a difference for your profession and at someone's table. Start donating early at: https://www.mightycause.com/story/Massdhaioh #GivingTuesday
Lets do this Massachusetts! 
Amanda Berthiaume
IOH Liaison, MDHA
Happy Winter!
Donating to the IOH goes directly back to other dental hygienists in the forms of grants and scholarships. Please donate today or join our team to help fund raise. We are stronger together!
Please follow the link for more information and to apply for grants and scholarships from the IOH! https://www.adha.org/ioh-about-us
Amanda Berthiuame, RDH, CDA, MsDH
IOH liaison, Massachusetts