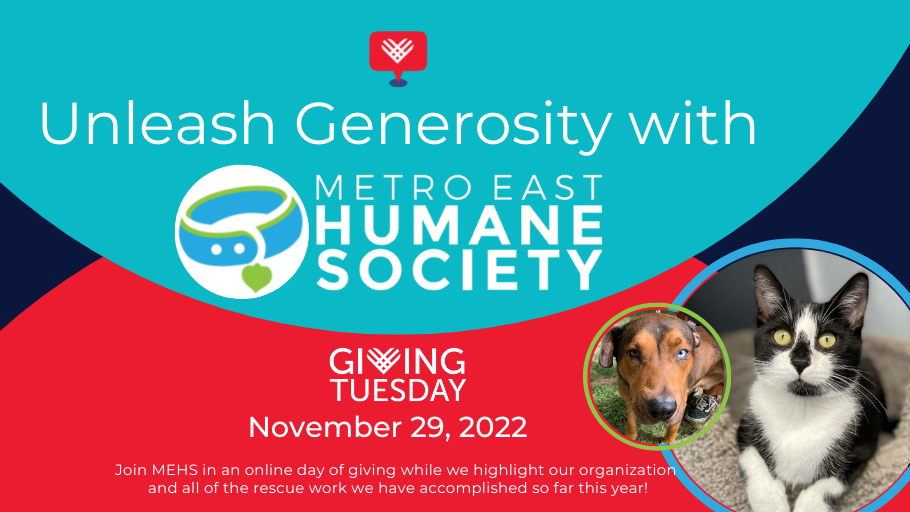 #UnleashGenerosity this Giving Tuesday with Metro East Humane Society!
$2,956
raised by 51 people
$3,500 goal
GivingTuesday is a global generosity movement, unleashing the power of people and organizations to transform their communities and their world. 
 GivingTuesday was created in 2012 as a simple idea: a day that encourages people to do good. Over the past ten years, it has grown into a global movement that inspires hundreds of millions of people to give, collaborate, and celebrate generosity.
Whether it's making someone smile, helping a neighbor or stranger out, showing up for an issue or people we care about, or giving some of what we have to those who need our help, every act of generosity counts and everyone has something to give. GivingTuesday strives to build a world in which the catalytic power of generosity is at the heart of the society we build together, unlocking dignity, opportunity and equity around the globe.
Since 1986, Metro East Humane Society has worked to enrich the lives of people, cats, dogs in Madison, St. Clair, Jersey, Bond, and Macoupin counties. To do this, we operate a no-kill shelter;  provide humane medical treatment, vaccinations, and spay/neuter services; educate adults and youth on the humane treatment of animals; build partnerships with community-based organizations, schools, public institutions, private corporations, and elected officials; and respect the public trust through the proper management of our resources. 
In early 2020, MEHS acquired both the Riverbend Pet Food Pantry and Highland Animal Shelter, immediately followed by having to close our doors to the public due to COVID-19. We have continued to provide resources for as many pets as we safely can; in 2021 more than 36,000 lbs. of pet food were provided to 101 families free of charge through our Riverbend Pet Food Pantry, 1,760 pets received low-cost veterinary services through our public spay/neuter surgeries and vaccine & microchip clinics, and 577 community cats were helped through our trap-neuter-return and working cat program.
At MEHS, we've integrated Giving Tuesday into our larger Yappy Pawlidays campaign. Each year, MEHS hopes to raise $3,500 on Giving Tuesday to enable MEHS to help more animals in the Metro East.
Instagram