Messages Across America to Promote Democrats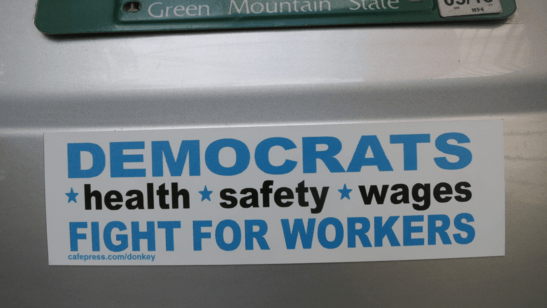 $2,067
raised by 78 people
$1,106 goal
"Thank you!  You're gorgeously concise stickers just arrived in 3 hand addressed envelopes!  Soon my friends & neighbors will be driving them them all over the northwest." ~sybild

Thank you for supporting this messaging campaign!
I'm Rob in Vermont, a longtime Daily Kos member, and with the help of many other "Kossacks," I initiated a project to distribute free pro-Democratic bumper stickers, because promoting Democratic values and achievements — the Democratic brand — is one of the ways that we in the grassroots can help elect Democrats.
The current goal is to distribute another 1000 bumper stickers.  Since each bumper sticker distributed will get many thousands of views, your contribution will have a big impact. You are sponsoring clear, concise pro-Democratic messages which will be seen every day, in and out of election season. 
The crowdfund goal of $1106 will be used to purchase
1000 bumper stickers = $874
20 books of stamps = $232
The 1000 stickers will comprise a variety of our 10 designs.  Note we don't need to purchase a 1 to 1 ratio of stickers and stamps, since more than one bumper sticker can be mailed with a single stamp; often folks request more than one.
Any leftover stamps or extra funds collected will be used for the next batch of bumper stickers. 

How this project started 
Over the years, I often posted comments and occasionally diaries on Daily Kos making the case for more Democratic brand messaging. After the horrifying 2016 election, I decided "Stop talking about it, do something about it. Be the change you want to see."  I realized that if we think messaging is important, we don't have to wait for it, we can do it.  
So I designed several pro-Dem bumper stickers, and 25 fellow Kossacks and I sponsored the project by ordering 50-packs of bumper stickers from Cafepress and stamps from USPS, using my address as the ship-to, which provided me inventory to distribute, and I posted a diary series on Daily Kos to promote the free bumper sticker project. Over time, thousands of stickers were distributed to folks all across America who requested them from the free inventory or ordered them directly from Cafepress.
Each of those thousands of bumper stickers will be viewed many thousands of times, so the pro-Democratic bumper stickers distributed so far in this project will altogether get many millions of views. 
Our goal is to keep increasing the number of bumpers displaying these messages across America!

Crowdfunding makes this project more economical:  just 87 cents will sponsor a pro-Dem message that will be viewed many thousands of times
When we started this project, each donor purchased and contributed a 50-pack of bumper stickers to the inventory.
By pooling our resources, we can purchase bumper stickers in larger quantities at reduced prices.  
Our current crowdfund goal will allow us to distribute about 65% more bumper stickers for the same amount of investment.  It reduces our cost to 87 cents per bumper sticker. With each bumper sticker getting many thousands of views, that's a lot of bang for the buck!  
Crowdfunding is also more convenient, since you can choose whatever amount you wish to contribute.
Thanks again for supporting this pro-Democratic messaging campaign!
Note: I do not profit from sales of these bumper stickers.

A personal fundraiser by
Rob in Vermont