Diaper Need Awareness Week 2023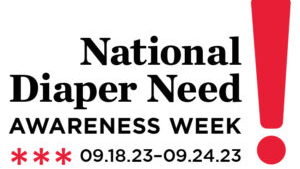 Donate to enable us to buy and provide clean diapers for babies in need!
$75
raised by 2 people
$2,500 goal
Nearly 1 in 2 Minnesota babies and toddlers don't have access to enough diapers to keep them clean and dry.  
Diaper Bank of MN is working to change this by providing diapers to families in need in the Twin Cities area, increasing awareness about diaper need in Minnesota, and advocating for changes to improve conditions for babies who need diapers.
Help us provide diapers for families with children in need by donating today during National Diaper Need Awareness Week, Sept 18-24, 2023.
Diaper Need Awareness Week – a signature initiative of the National Diaper Bank Network – provides individuals, organizations, communities, and elected officials the opportunity to engage in real talk and simple actions while drawing national attention to the issue of diaper need.  Together, we can make a difference.
                        Learn More