Help us buy King's Hill! 1000 To Give $1000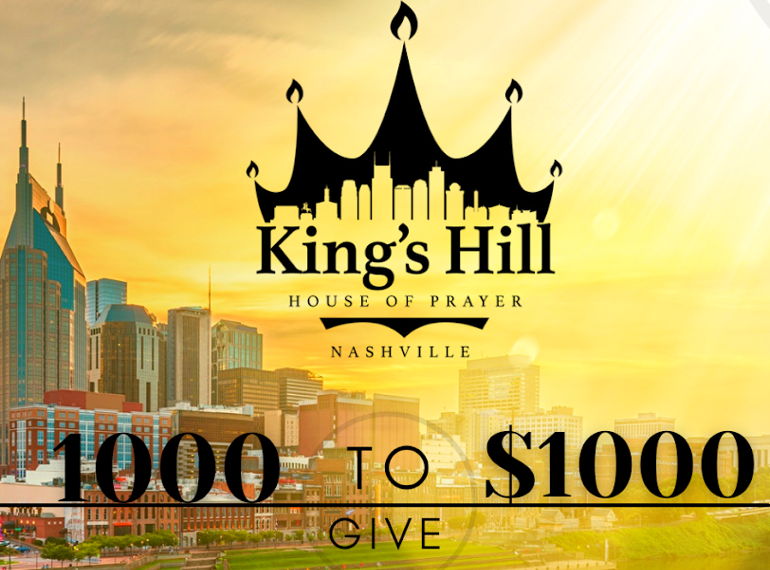 "EVERY SACRIFICE MATTERS EVERY PRAYER COUNTS"
$63,724
raised by 91 people
$1,200,000 goal
What is King's Hill House of Prayer?
KHHOP is a Nashville based house of prayer for all nations, all people, leaders, & the City of Nashville led by a community of worship and prayer intercessors reflective of the body of Christ.
MISSION
Our mission is to fulfill the King's mission that King's Hill would be a blessing to the people, our city, & the Nations.
2 Bibiblical mandates
1) Isaiah 2:2 "In the later days the Lord shall establish His House as the highest of hills and all nations shall stream to it." We aim to "stream in" via our internet platform representatives of one Nation a day.
2) 1 Tim 2:1-2 through focused intercession for all people, leaders, and all those in authority that we might live peaceful lives in all Godliness and Holiness.
SUMMARY PURPOSE
KHHOP blessing to ALL people, the city, and nations while bringing glory and praise to the King of kings. Night and day, strategic local and global prayer initiatives connect a network of diverse partners, inviting God's love, power, and presence into the City and the Nations.
STRATEGIC LOCATION
Located at the highest geographical point closest to downtown Nashville, overlooking the city from the North. KHHOP's physical hub includes three private residences built on three acres.
---
WHY WE'RE ASKING FOR YOUR HELP!
---
Thank you for giving! We have been given a window to purchase instead of lease the 3 acres of land/houses known as "King's Hill." We believe KHHOP is to own this property - but - God's is leading that it is to be a city-wide effort, which Dr. James Goll (and others) so clearly spoke over us recently.

"EVERY SACRIFICE MATTERS EVERY
PRAYER COUNTS"
Help partner with us now and be an important part of bringing God's plan for King's Hill to fruition. We believe this includes seeing sustained revival, culture reformation and unity that commands the blessing that results in Nashville becoming a "Shining City on a Hill." Some may give a $1000, others $10,000, others $100 and yet another $10. We value the widow's mite as highly as the millionaire's million.
PLEASE PARTNER WITH US NOW AND BE ONE OF A 1000 TO GIVE $1000! (We appreciate and thank you for any amount you choose to give.)
We are believing for a John 17 unity that releases a Psalm 133 blessing!
Jeremiah 33:8-9
And I will cleanse them from all the sin they have committed against me and will forgive all their sins of rebellion. Then this CITY will bring me renown joy, praise and honor before all nations on earth that hear of all the good things that I do for the city; and they will be awe and will tremble at the abundant prosperity and peace I provide for the city.