Ocmulgee National Park and Preserve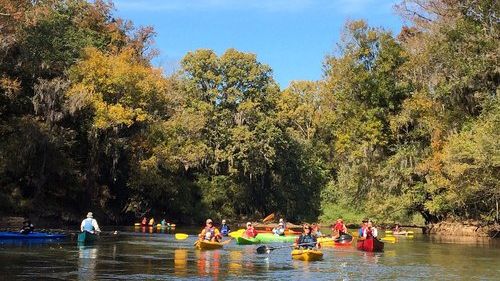 Support the Georgia Conservancy's efforts to create a National Park & Preserve in middle Georgia!
$1,895
raised by 31 people
$2,500 goal
The Georgia Conservancy is part of a long-term effort to establish a National Park and Preserve along the Ocmulgee River corridor between Macon and Hawkinsville.  This collaborative initiative is working with state, local and federal agencies, as well as private landowners, to achieve our goal of tying together conserved properties to form this large, new National Park and Preserve.
Your investment will help support the Georgia Conservancy's efforts to expand the existing Ocmulgee Mounds National Historical Park, participate in joint-land use studies, and build the coalition of stakeholders.
Historical Significance
The Ocmulgee River is a special place, unique in the southeast.  It was once home to the ancient Mississippian civilization and their descendants, the historic Creek people.  This area is recognized as one of America's most important archaeological landscapes.  The Ocmulgee River was also an important waypoint in the expansion of the eastern frontier, marked by all of the tragedy and triumph of that early period in America's history.  Today, Middle Georgia's Ocmulgee River corridor is a critical migratory flyway and wildlife habitat, home to one of Georgia's three populations of black bear and contains the largest block of forested habitat remaining in the upper coastal plain.

Who/What Benefits
Natural ecology, wildlife, and vegetation
Local and statewide economies (fishing, hunting, tourism)
Various community groups, including historically-disenfranchised groups like the Muscogee (Creek) Nation

The Opportunity
To create a premier National Park for Middle Georgia and the Southeastern United States 
To establish a 35-mile long protected river corridor for wildlife
To honor and preserve the land's history and evolution from Native American ownership to the present day 
To connect cities across Middle and Coastal Georgia through recreational opportunities afforded by this landscape

Work To-Date
Enabling Legislation – U.S. House Resolution 538 (2017)
Renamed Ocmulgee National Monument to Ocmulgee Mounds National Historical Park
Mandated the expansion of the Park to include 2,100 acres of new parkland through land acquisitions and sales
Calls for studies to assess historical value and generate a plan to acquire properties for the park and 35 miles of preserves along the Ocmulgee River

Short-Term Objectives
Expansion of the Ocmulgee Mounds National Historical Park 
Joint Land Use Studies: National Park and Robins Air Force Base (AFB)
Coalition-building among stakeholders 
Long-Term Objectives 
Protection and preservation of the Ocmulgee River Corridor through land acquisition, conservation easements, and Robins AFB's Readiness & Environmental Protection Integration (REPI) Program
Coordination of existing state plans, including the Georgia Sentinel Landscapes Partnership, State Wildlife Action Plan (SWAP), and Black Bear Management Plan 

Why it Matters?
The Ocmulgee River plays a significant role in the economic health, quality of life, and regional identity of the Middle and will continue to do so in the next 50 plus years if it is preserved. It is believed that existing public lands along the river have great potential value to the recreation and tourism economy of many communities in Middle Georgia.  Currently, The Ocmulgee Mounds National Historical Park is already the region's largest visitor attraction, with great room for growth.