LifeWithEdge-RBC Whistler GranFondo Forte for IWMF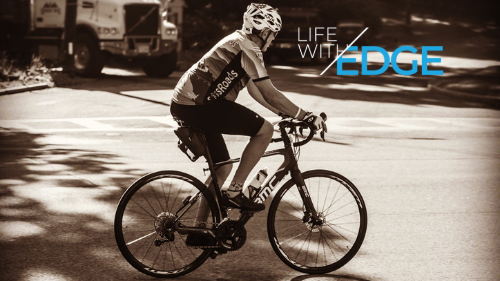 I will be riding in the RBC GranFondo Forte race on 10th September 2022 to raise money for the IWMF.
In July 2017, not long after my fifty-fifth birthday, I was diagnosed with Waldenstrom's Macroglobulinemia; a rare, incurable, but somewhat treatable lymphoma. The first thing you do when handed that entirely unwelwelcome news? Well for me it was to sign up to ride a bicycle 3,415 miles - from LA to Boston.
A year later, I crossed the finish line and dipped my bike wheel into the Atlantic, in the same way I'd left the Pacific, having ridden 'every foot and inch' across a continent in 48 days.
As life changing as that experience was, from that moment in June 2018, until the July of last year, I didn't touch my bike. I had no reason to battle the traffic, no cycling goals to speak of, and no reason to push myself hard. I had come to terms with the fact that I now have a blood test every three months, the occasional IV treatment, and I learned a lot about lymphoma. It became easier to fall back into old ways. After all, I'd checked the box I'd set out to.
As I thought about my past riding, and my health generally, the things that surprised and satisfied me about he challenge in 2018 really sunk in. The colorful characters I met on the ride, who encouraged me all the way; the supporters who sent well wishes from around the world, following my blog for every update; the people I had never met, who lined up to help in any way they could (a few even taking up cycling after reading my story); raising almost $50,000 for the Mayo Clinic's research into WM, just from my Facebook page. They were all entirely unexpected and unintended outcomes - from something so small, a personal and positive decision to help myself, things had snowballed into something improbable that went far beyond proving that I could overcome and endure.
Spreading awareness for a rare lymphoma, raising money for research into a cure, all suddenly seemed very obvious and very valid reasons to get back pedaling.
I bought an indoor trainer, signed up to an indoor cycling app and started to turn through the gears once more. I got back in touch with my old coach from PeaksCoaching, the wonderful Julie McKenzie, and we began to hatch a plan. This time I had the long term in mind, to train for at least five years, become a decent rider along the way, and to take on the great challenges of the cycling World - sustaining that motivation, and extending those goals beyond a singular event.
One of the hardest elements of riding across America was undoubtedly the hill climbs. Nowadays, I live in Florida, so my previous hill training consisted of riding bridges over I95 - they were the extent of my mountains. It was perhaps not surprising then, that climbing 7,000ft from the desert to Flagstaff was a slow and grueling few days. Climbing was always my greatest weakness. Beyond just finding my fitness, I knew that I would have to become a much better climber on a bike. I stumbled on RBC Whistler GranFondo at exactly the right moment.
A video of a breathtakingly scenic, closed road ride was all it took. What could be a better inspiration, a more perfect goal post to aim for, than the prospect of joining others on the road from Vancouver to Whistler. I hurriedly penciled myself in for the Forte 152km before it sold out and got sttraight into the training schedule which, with some tail winds and good fortune, will propel me all the way to the GranFondo finish line. Riding a bicycle, out on the road and knowing it can contribute to a wider cause - well, that certainly does make me feel alive.
And is there anything more important, more undervalued than that?
Instagram