Donate to Be Strong International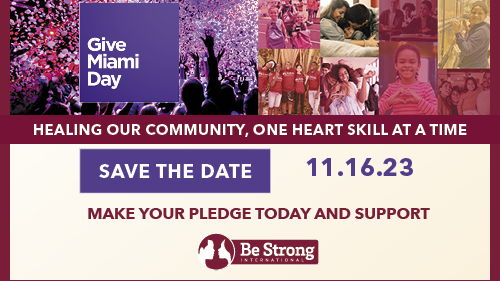 Support Be Strong Int'l on Give Miami Day for our local community!
$0
raised by 0 people
$5,000 goal
Hello friends and family,
Today, I share with you a story close to my heart - a journey of resilience, hope, and transformation.
Once upon a time in our very own Miami, there lived a young girl named Sofia. Bright-eyed and full of dreams, Sofia's world turned upside down when her family faced an unexpected financial crisis. The strain was palpable. Her parents worked tirelessly, leaving little time for family moments that once filled their home with laughter and love.
Sofia began to retreat into a shell, her once vibrant spirit dimming. She struggled in school and often felt alone, even in a crowd. It was during this challenging period that Sofia and her family found Be Strong International.
Through Be Strong's Heart Skills™️ programs, Sofia and her family embarked on a journey of healing and connection. They learned to communicate, understand each other's struggles, and most importantly, they rediscovered the strength of their bond. Sofia's parents found new ways to balance work and family life, bringing back the joy that once resonated in their home.
Sofia's story is just one of many. In our community, countless families and individuals are facing similar challenges. They are seeking a beacon of hope, a guiding hand to lead them back to a path of emotional wellness and family unity.
This is where we come in.
On this Give Miami Day, I am reaching out to you to be a part of this transformative journey. Your donation to Be Strong International will not just be a contribution; it will be a lifeline to those like Sofia and her family. It will provide the essential Heart Skills™️ that can turn lives around, fostering stronger, happier communities.
Every dollar counts. Every heart matters. Together, we can make a difference.
With gratitude and hope, 
Yoel Gutierrez