31st Annual "Grumpy Old Men" Flagpole Food Drive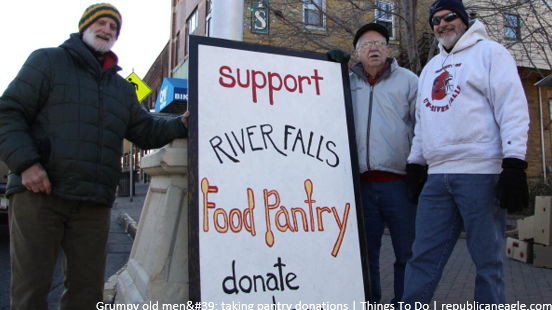 In honor of the original Grumpy Old Men; Jerry Carter and Mel Germanson.
$12,505
raised by 48 people
$15,000 goal
The 30th Annual Flagpole Food Drive was not held in person in 2020, but many contributed via mail or by dropping their donation off directly with the food pantry. Despite the challenges, it was still a success and raised over $8,000!
On Tuesday, November 30th from 9am to 6pm, a new group of "Grumpy Old Men" will be working hard. They will accept non-perishable food items, cash, or checks written out to the River Falls Food Pantry, (make sure to write "Grumpy Old Men" in the memo), at Memorial Park by the flag in downtown River Falls. Just drive on by and hand your donation to the GOM! Donations to this page will begin Monday, November 22nd, and end Wednesday, December 1st.