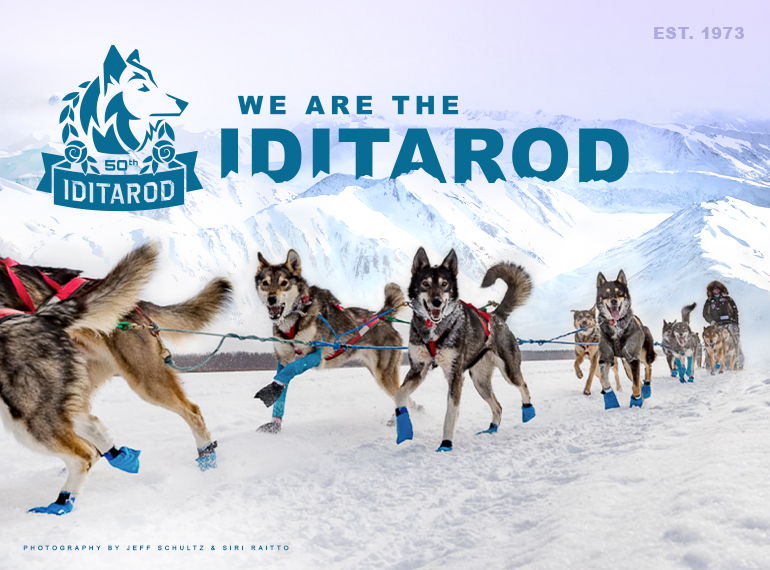 We are the Iditarod, a campaign that preserves yesterday, and protects tomorrow, today.
140 donors
raised $29,152
10,000 donor goal
We Are the Iditarod 
For 50 years, the Iditarod has been able to remain The Last Great Race on Earth through the support of donors and volunteers. Through your support, you can make a difference and ensure that we can continue the legacy set forth so long ago. 
The Iditarod works to promote and preserve the historic Iditarod Trail, most notably through the annual staging of the Iditarod Sled Dog Race, which runs from Anchorage to Nome, Alaska. 
The Iditarod relies on the philanthropy of race fans and friends to help stage the race and strengthen the future outlook of the organization. Large or small, every gift counts. All gifts help strengthen the mission of the Iditarod.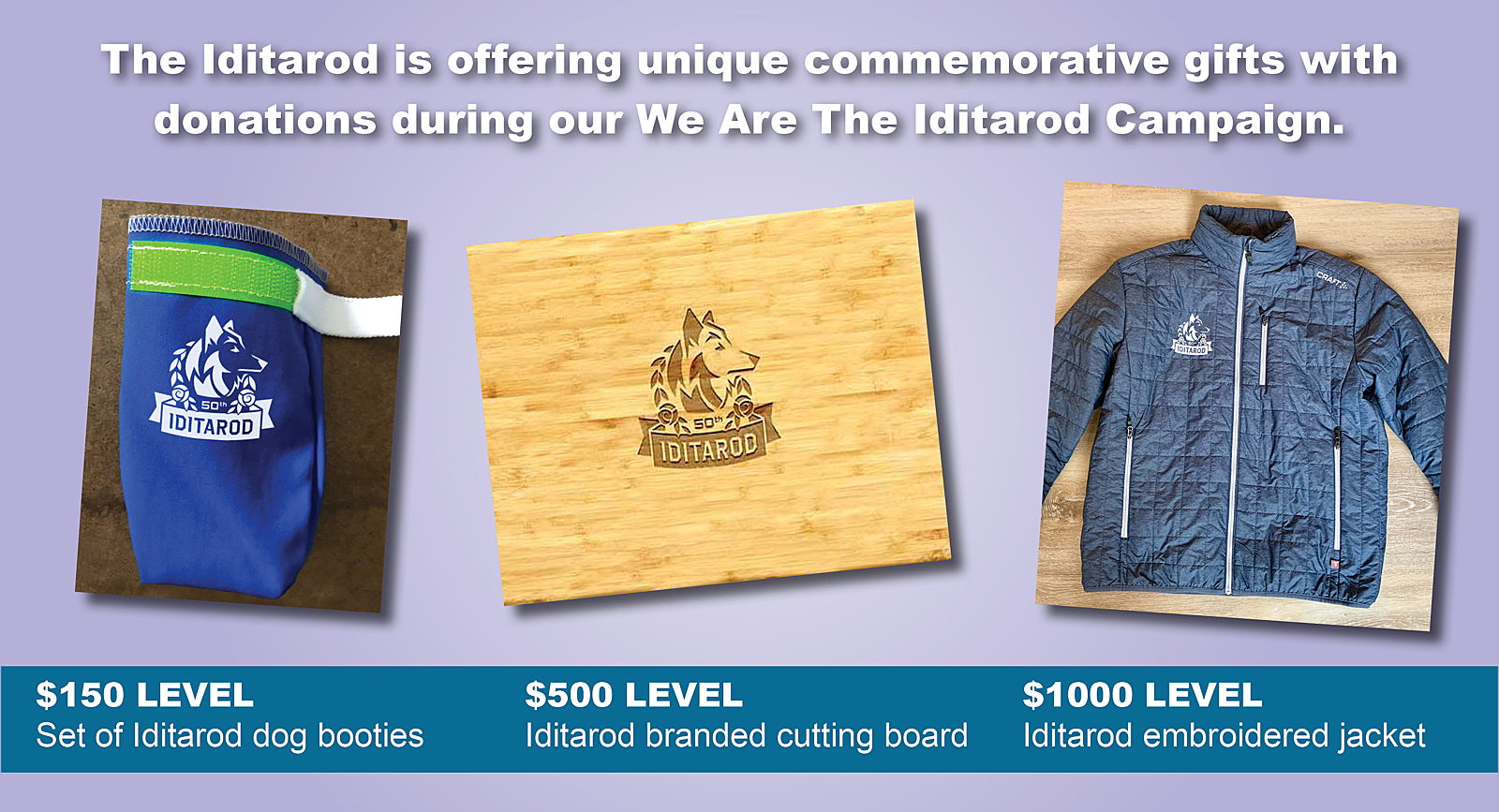 The Iditarod will be offering unique commemorative gifts with donations. For a contribution of $150 – $499 a donor will receive a set of Iditarod screen printed dog booties, for a contribution of $500 – $999 donors will receive an Iditarod branded cutting board, and contributions of $1,000 or more donors will receive an Iditarod embroidered jacket.
Gift offer is available through December 31.
---
Your support of the Iditarod will ensure the race continues to honor the history and culture of Alaska, impact economic development, and provide new knowledge regarding the health and happiness of sled dogs through investments in: 
• Dog Care: Dog health and care are central to the success of The Iditarod, providing a platform for international research on dog health, nutrition and safety. Each year, research studies through our partnerships with universities and veterinarians have led to breakthrough discoveries that improve the lives of all dogs. The Race has adopted the "Best Standards of Trail Dog Care Practices" for sled dog kennels, with a focus on the health and happiness of the dogs, while supporting the goals of the competitive mushers. The official Iditarod Veterinarian team assesses kennel standards year-round and provides ongoing educational opportunities for mushers. 
• Creative Educational Programs (childhood education, higher education): Expanding our educational programs will bring the story of Alaska and our proud heritage to a new generation of fans and visitors. The Race is a unique outdoor classroom for over 10,000 students, allowing the Iditarod.edu program to build standards-aligned content instruction in math, social studies, language arts, science, health and fitness, technology, arts and character education. Utilizing the race as an educational tool, there are lessons, web-based videos and materials, curriculum connection, activities and projects for use by preschool, K-12 teachers and homeschool families. 
• Protecting Alaska's Heritage: The Iditarod Heritage program supports the conservation of Alaskan history, culture and places through education, training and skills development, and heritage planning. The program builds links between our community pride, tourism, and economic development. It establishes outreach programs to villages and communities across Alaska to build interest and participation in race activities. The program will also focus on instilling the dream of winning the Race in new generations of mushers through careful outreach and cultivation among all Alaskans and race enthusiasts around the world. 
To send cash gifts by mail, please make checks payable to Iditarod or Iditarod Trail Committee and mail to: 
Iditarod Trail Committee
2100 S. Knik-Goose Bay Rd.
Wasilla, Alaska 99654
For more information on how to give in other ways such as bequests, real estate, capital gifts, in-kind donations, or sponsorships, email Rob Urbach, Iditarod CEO, at rob.urbach@iditarod.com. 
The Iditarod Trail Committee is a 501 (c)(3) non-profit organization. Proceeds raised help support the Iditarod Trail Sled Dog Race. 
Instagram