Stray Rescue's "A Walk to Remember" 2023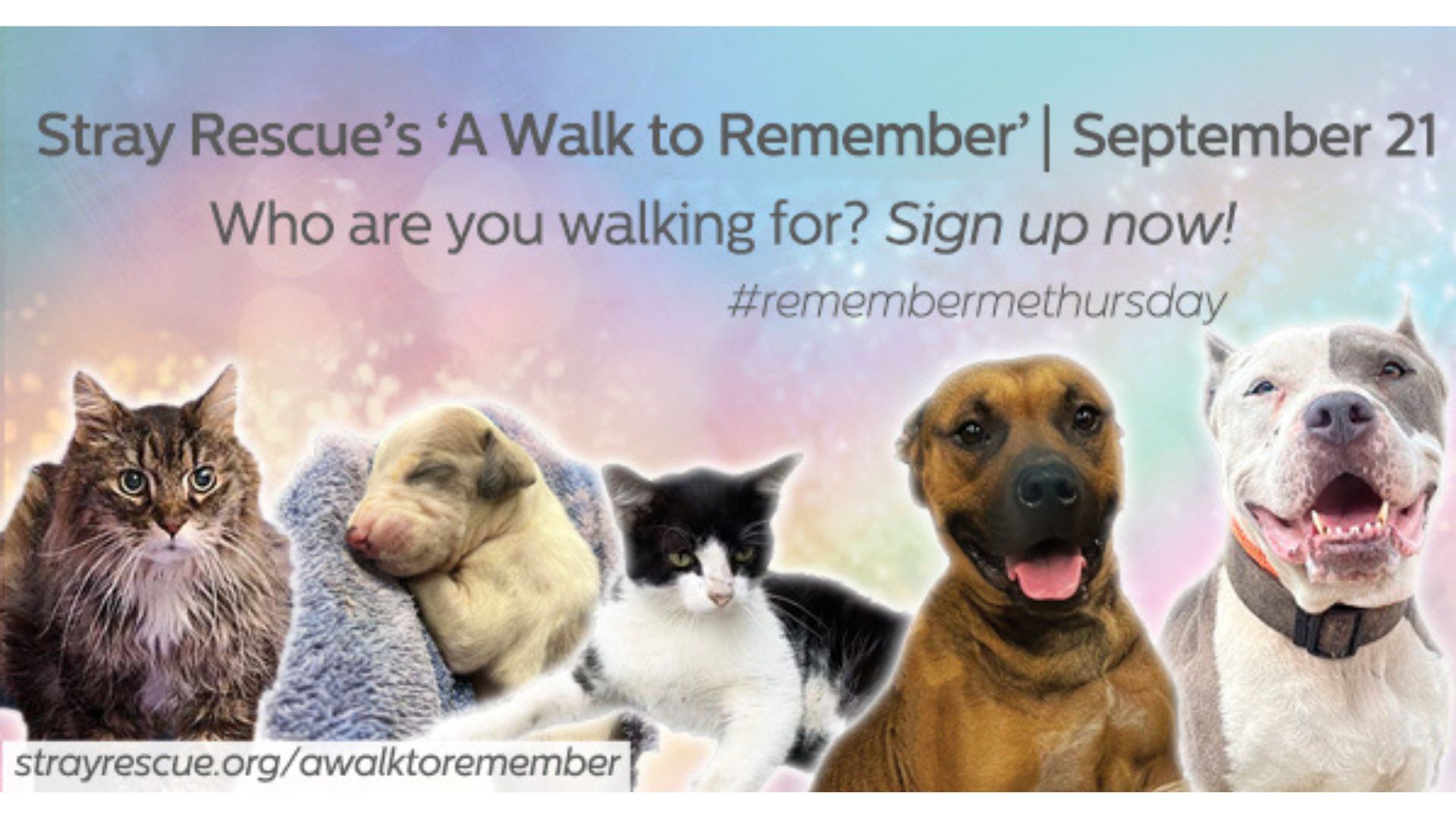 Join us for Stray Rescue's "A Walk to Remember" this September.
$0
raised by 0 people
$10,000 goal
No matter your area code, your time zone, or the country you live in, you can join our event and help us save lives!!
We are looking for 100 people 
To commit to each raising just $100
And walk 1 mile on September 21, 2023!
Join us for Stray Rescue's "A Walk to Remember" this September.
You may walk for one of our warrior dog or cats that lost their battle this year. As you honor their memory, rest assured they will feel your love. You can walk for your own beloved pet that you may have lost this year, or even an animal-loving friend or family member. In their name, we will come together and raise $10,000 for animals in need! We can't think of a better way to celebrate their beautiful lives than to give back to our cause and save more in their name.
Take a picture of your dog, you with your dog, or your family with your dog and post it as you begin or complete your walk, and we commit to sharing every single picture* on September 21! We will mail you a sign that says "I am walking for ________" to include in your photo. 
*Your pictures will only be shared if you completed the $100 fundraising challenge!
If you'd like to walk for one or more of our angels, please choose from the list below. You may recognize some of their names after having followed their stories: 
Segway
Wishbone
Judy Gemstone
Maytag
Bridget Von Hammersmark
Cuban
Wolf Webster
Butter Dog
IQ
and many others. 
Get registered, start fundraising, and we'll all walk 1 mile, all over the world on September 21st! 
#RememberMeThursday is a day dedicated to remembering the dogs and cats that died in shelters, and never got to know a loving home. It also shines a light on the amazing and beautiful animals currently in shelters waiting to be adopted. We are thrilled to participate every year with a candlelight vigil, and this year we can't wait to do more with this incredibly impactful message.