Help John Floyd Rebuild His Life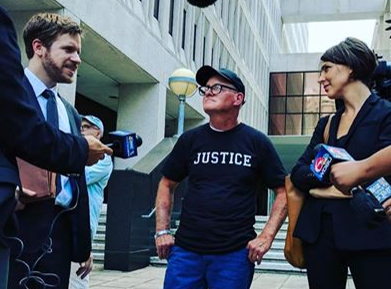 Thank you so much! Continue supporting John via his wishlist: https://tinyurl.com/SupportJohnFloyd
$1,515
raised by 20 people
$5,000 goal
Innocence Project New Orleans' client, John Floyd, was freed June 22, 2017, one week before his 68th birthday, after spending over 36 years wrongly convicted. John will be spending the holidays with his family for the first time in 40 years this year, and he would like to be able to purchase presents for his family and to pay for gas for the eight-hour roundtrip journey.
 John was sentenced to life without parole at a bench trial in 1982 for the murder of Times-Picayune proofreader William Hines in 1980. Innocence Project New Orleans (IPNO) has been fighting for John since shortly after our founding in 2001.
John was convicted of murdering Hines after being acquitted of a similar murder. The only evidence of his guilt was his alleged confessions to both killings. John, who has an IQ of 59, maintains that detectives coerced the confession after plying him with beers and threatening violence. 
In September 2016, Chief Judge Sarah Vance of the U.S. Court for the Eastern District of Louisiana gave a detailed 67-page ruling that John's case must be considered by the federal courts despite its age because he had met the "actual innocence" standard, meaning no reasonable jury would likely convict him in light of all the evidence now known. 
Judge Vance then ruled, in May of 2017, that he did not receive a fair trial because of forensic and witness evidence hidden by the police. She ordered John be retried or released within 120 days of her May 8, 2017, ruling. His release comes from an agreement with the State, that John can be released with few conditions while the DA considers its appeal from her rulings.
John is living on a farm near Lafayette, where he is pursing his love of nature and animals, but he started from scratch. Please donate to help John rebuild his life after he was robbed of more than 36 years of freedom. You can read more about John's case at Nola.com/the Times Picayune and the New Orleans Advocate. You can also buy items from John's wishlist here to help him rebuild his life. Thank you!
A personal fundraiser for
John Floyd
Organized By Cat Forrester