Gerry Zieske Memorial Fund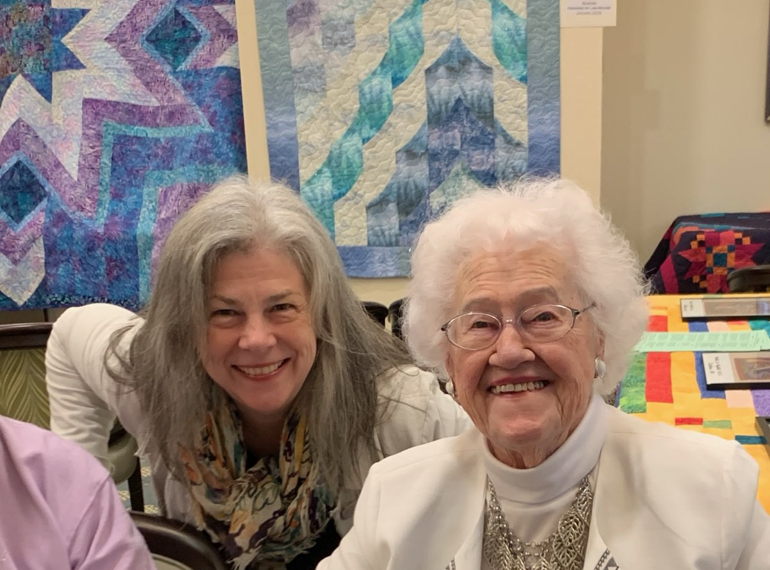 In honor of the spectacular life of Gerry Zieske.
$798
raised by 13 people
$2,500 goal
Anna Geraldine Zieske of Mukilteo, WA, peacefully passed away in February 2021. She was in her 100th year.
Gerry was born on May 24, 1921, to Ruth Rushing and Eric Addison Parrish in the small town of Piggott, AK. Four years later, her younger sister Martha Jane was born. Gerry always described her childhood as a joyful time.
After Gerry graduated from Piggott High School in 1938, she attended Malden State Teacher's College for three years. She then completed a degree in Home Economics at the University of Missouri in 1941. She kept in touch with her seven closest friends from that time by writing letters for the duration of their lifetimes.
After graduation, she worked as a home economics teacher in Eldon, Missouri. She explained that she would meet up with a friend, link arms, and sing as they walked to work. It was there that she met Robert Zieske in 1943. They knew each other for just a short time before he left to serve in the signal corps in Patton's army. They wrote letters daily throughout the war. She remembered, "I learned to know Bob and to love him through letters." They got officially engaged almost immediately after Bob returned from the war, marrying in 1946.
Following their marriage, they moved to Cleveland. Gerry worked as an appliance demonstrator and high school teacher over her career. Gerry and Bob were both passionate about gardening and together making their home and yard visually beautiful.
To complete their family, Gerry and Bob adopted two daughters, Martha Jane and Laura Ann. Gerry was an early member of the Gamma Mu Mothers Club- a social club formed for adoptive mothers. They met monthly for over 50 years, again, friendships that spanned lifetimes.
Gerry was a member of the Mayfield Methodist Church from 1946 until 2006. Also, she was a member of the College Club of Cleveland, founded in 1887, which promoted Cleveland's college-educated women's social philanthropic and literary interests.
Gerry was always passionate about traveling, an interest she picked up early in her marriage. After her husband passed away in 1988, Gerry began touring more extensively. She visited places such as China, Japan, South Africa, Australia, New Zealand, Russia, Eastern, and Western Europe, South America. She delighted in showing her family and friends the slides and pictures of her travels. Gerry later reflected that traveling was one way she tangibly experienced the closeness of God.
In 2006, Gerry moved to Washington State to be near her daughter Martha. While retired, Gerry had time to pursue her love of quilting fully, a hobby she began in the late 1980s. Gerry had always enjoyed sewing, making all her daughters' clothing, and later, dresses for her granddaughters. But as her daughters grew up, she began quilting, making hundreds of gorgeous quilts and award-winning wall hangings.
Gerry was defined and nurtured by her numerous and ongoing associations. As an inveterate joiner, she sought and bounded with others of like interests in many ways at every stage of her life. She was truly loved well by so many, known for her zest for life, and took exuberant pleasure in each moment and her many enduring friendships. But her most immense joy was in being a mother. She reflected, "I loved every minute of being a mother and was completely happy to be home, to be a homemaker, and have my family- I can't even imagine wanting to do anything else. And I think if it were today if I were living my life over again, that is what I would have chosen to do because it made me happy."
Gerry was predeceased by her parents, her sister Martha, her husband Robert, and her daughter Laura. She is survived by her daughter Martha (Martin), grandchildren Alison (Terry) and Christine, and her great-grandchildren Anthony and Giovanni.
In her memory, please consider a donation to Foster Kinship. Foster Kinship is a nonprofit organization founded by her granddaughter Alison to help at-risk children who can't live with their birth parents stay with their families.