5 x 5 x 5 for Hope – 2021
A virtual 5K for $5 – any activity, any place, any time. We just ask that you recruit 5 friends.
$8,083
raised by 45 people
$8,000 goal
$8000 and Counting with 2 Days to Go!
Update posted 2 years ago
Yay! We reached our goal to raise $8000, but we've still got 2 full days to get even more contributions. The "5 x 5 x 5 for Hope" goes through July 5. Please spread the word and help Hope's Corner continue to provide hot meals and showers for homeless and low-income individuals. Thanks!
Thank you for your interest in joining the Second Annual "5 x 5 x 5 for Hope" event and spreading hope! This event is a fun and easy way to support Hope's Corner's important work in our community. And it's a great excuse to get outdoors for some exercise. 
5 Easy Steps to Spread Hope
Do a 5K of your choice by July 5 – walk, run, hike, bike, swim, skate, kayak, hoverboard, unicycle, or whatever floats your boat. Take your dog with you!

Donate $5 (or more) to Hope's Corner (button above) to 

help us reach our $8000 fundraising goal. If you donate more than $125, you'll get a T-shirt.

Recruit 5 people to join the fun – friends, family, co-workers, neighbors, , . . . anyone. We'll schedule meet-ups too. The more, the merrier!

Post 5 photos/messages on social media – hashtag #Hope5kChallenge. 
High-5 yourself and feel good about partnering with Hope's Corner to provide food, showers, and laundry services for local people who struggle to get by.
5 Reasons to Support Hope's Corner
We've provided over 100,000 free hot, healthy meals to homeless, low-income, and vulnerable folks . We haven't missed a meal service during the pandemic!

We've continued our Wednesday to-go lunch  that includes walk-up and drive-thru options. We also deliver meals offsite to RV residents and low-wage day workers.
We've more than doubled the number of free meals we provide. Each week we distribute over 500 free meals to hungry seniors, adults, and kids.

We provide onsite showers, laundry services, bicycle accessories, toiletries, and power chargers to homeless individuals to improve their lives.

Our costs have gone up considerably due to the pandemic and the services we added. Our annual report (below) provides more information about the effects of COVID on our meals program as well as information about the guests we serve and our finances.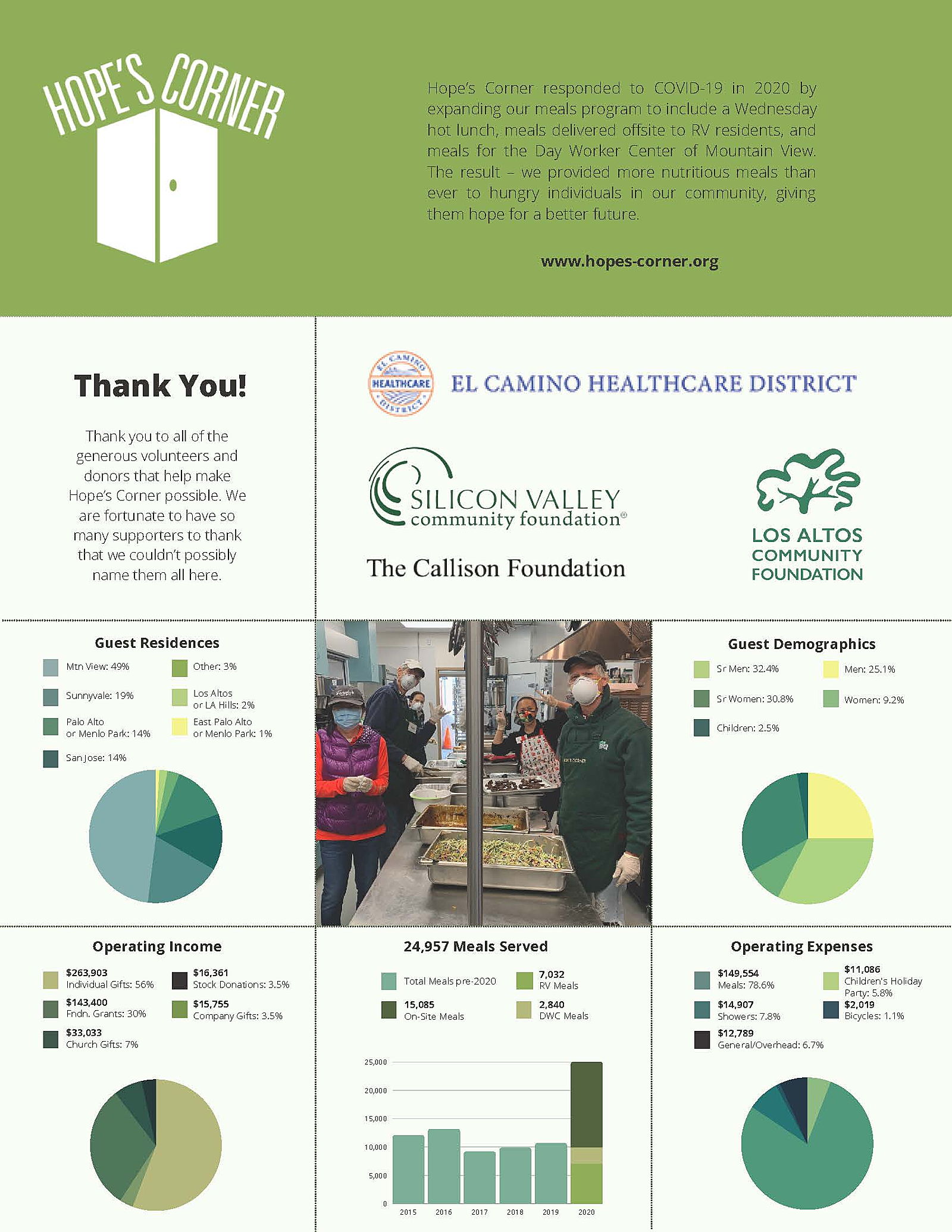 Instagram