#TRRSHAREYOURSHOT: Wild for Wildlife
An international photography contest to help build security for our rescued wildlife and visitors!
$14,116
raised by 189 people
$10,000 goal
The results from your donations for the #ShareYourShot2021 Fundraiser!
Update posted 2 years ago
It's #ThankfulThursday!
After a few months of construction... the results of our #TRRShareYourShot2021 fundraiser are here!  From the bottom of our hearts to every single contestant, donor, and supporter. 
This is the result of all our hard work together!
Until the next Share Your Shot, wildlife heroes!
VOTING IS CLOSED!


WINNERS ANNOUNCED JULY 1st at 10 A.M. CR time
To view, all photo submissions click on UPDATES at the top of the page.
You can also view them on our Facebook page HERE!


ADULT CATEGORY WINNERS

1st - Seal Talk by Bryndan Cyr Bedel
2nd - Quetzalcoatl by Stephanie Valle Cubero
3rd - Hawaiian Monk Seal Enjoys the Sunrise by Lenore Matthew


---
WHAT IS THIS PHOTOGRAPHY CONTEST RAISING MONEY FOR?
At the Toucan Rescue Ranch, our number one priority is keeping our staff, visitors, and most of all, our wildlife safe. We also want our sanctuary to be inclusive for everyone, no matter their needs which is why we are raising money to ensure new security measures and resting spots within our sanctuary.


The funds raised from this photography competition will be used to purchase and construct a security gate, security camera, new locks for all the enclosures, and 4 new benches for seating among our educational walks.

It is important to us that our guests have the best experience at our facility while learning about wildlife conservation and that involves having resting spots, especially for those who are of old age or have disabilities.

In addition to resting spots, enhancing security at TRR is long overdue. The desire to secure a formal lock system and a practical gate is a constant among our team - all we need are the funds!
---
HOW TO VOTE/DONATE
 $1 Donation = 1 vote toward your favorite photo(s)
To vote for a submission, dedicate your donation to a specific photo/photographer at checkout. A step-by-step video on how to dedicate your vote can be found at the bottom of this page.
CHECK OUT WHO IS WINNING ON OUR PUBLIC RANKING SPREADSHEET!

STEP 1: Click the green DONATE button
STEP 2: Enter donation amount. $1 = 1 VOTE
STEP 3: Type the TITLE of the photo and NAME OF PHOTOGRAPHER
STEP 4: Enter payment info and complete - it's that easy!
Remember, you can view the UPDATES section for all of the photography submissions (at the top of the page) and if you want to check out who is winning be sure to see our rankings spreadsheet, just CLICK RIGHT HERE!
---
MORE ABOUT HOW THE #TRRSHAREYOURSHOT COMPETITION WILL RAISE $10,000?!
The entire month of June will be dedicated to our 2nd Annual #trrshareyourshot where you can share your wildlife photography with the Toucan Rescue Ranch with a chance to take 1st, 2nd, or 3rd place in both the adult and junior photographers categories. The winners will receive unforgettable prizes (see below) including overnight stays in eco-lodges all over Costa Rica and the opportunity to visit the TRR sanctuary!


Every vote for your image will raise $1 for our fundraising expenses (1 Vote = $1 raised). So, we are counting on family, friends, and the community to fall in love with these photos and dedicate their donation to their favorite! The top 3 photos in each category with the most votes will place in our contest, so every vote matters!

Without the safety and security of our rehabilitating and sanctuary animals, the Toucan Rescue Ranch could not be sustainable. Join our second annual photography contest and support our mission today!
Be on the lookout for your submission as we will post all accepted entries on our Instagram & Facebook pages!
---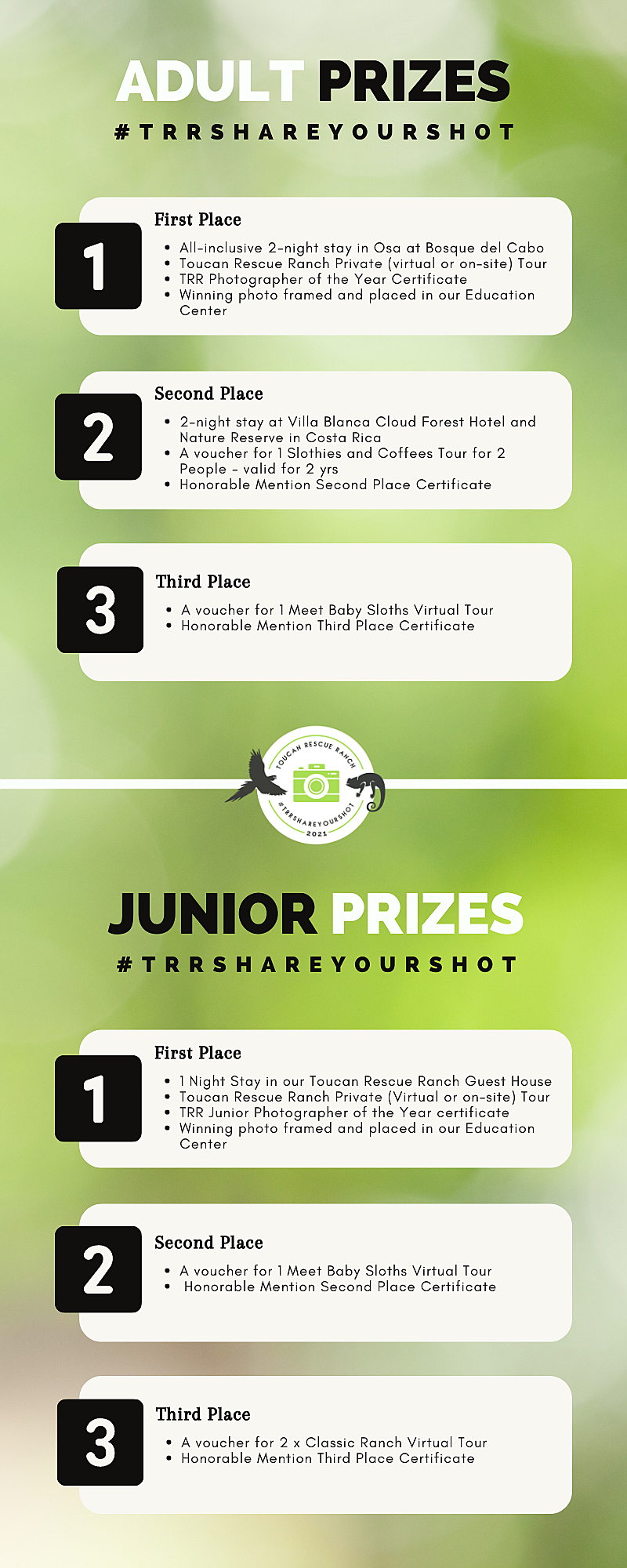 Instagram